Fruitcake and Flowers Top The Royal Wedding Menu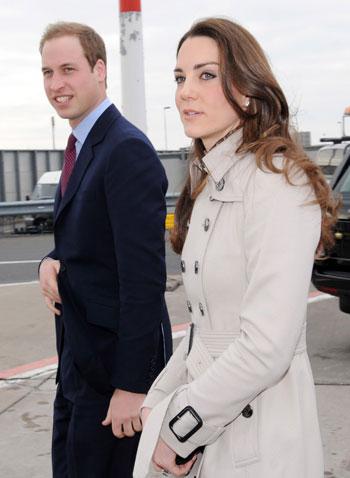 Prince William and Kate Middleton will definitely get plenty of just desserts on their wedding day - as the official cake concoctions have been revealed. And on the sweet list - fruitcake and flowers!
A traditional fruitcake will be the main attraction during the reception for Wills and Kate's nuptials on April 29, RadarOnline.com has learned.
But this won't be your typical holiday-time fare. The fruity sweet treat will come adorned with the royal couple's new cipher, have multiple tiers and will serve as the centerpiece decorated with a British floral theme by decorator Fiona Cairns.
Article continues below advertisement
Cairns plans to create each layer made with icing and brandy, and has already sent samples to the couple for their special royal taste test. Each tier will have a different theme and be detailed with 3-D scrollwork, leaves and flowers representing the four corners of the United Kingdom -- the English rose, Scottish thistle, Welsh daffodil and Irish shamrock.
The acclaimed sweet chef already has the baking underway - which needs four weeks to mature!
Cairns also revealed that Kate is taking the reins when it comes to the wedding planning: "She has guided us right from the beginning and has quite strong ideas," Cairns said. "That makes it much easier than a bride who has absolutely no idea whatsoever, which has happened in the past."
And a bit more untraditional will be a chocolate-cookie cake -- by special request from William and created by Royal Appointment -- using McVitie's biscuits (from a favorite Windors' recipe.)
Article continues below advertisement
There will also be a 'Sweet William' cake: "She (Kate) knew very much what she wanted, and she brought us mood boards and told us what influences she would like us to use on the cake.
"There is the bridal rose, which symbolizes happiness, the oak and acorn - which is an architectural detail around the room where the cake will be - symbolizing strength and endurance. There is a lily of the valley, which symbolizes sweetness and humility, and ivy leaves, which symbolize marriage."
Guests will also be able to get second helpings with another cake to be served at the reception, Prince William's office at the palace also announced.
The company has a longstanding royal relationship having created special treats for the Queen and Duke of Edinburgh's 60th wedding anniversary as well as past royal weddings and christenings - and plan to serve "a few hundred" pieces at the party.
So how much will all the special guests consume at the most anticipated wedding of the year? Thirty-five pounds of chocolate and about 1,700 McVitie's Rich Tea biscuits will be used for the cake creations.