Exclusive
EXCLUSIVE: 'Two & A Half Men' Crew Turns Against Sheen For Attacking Jon Cryer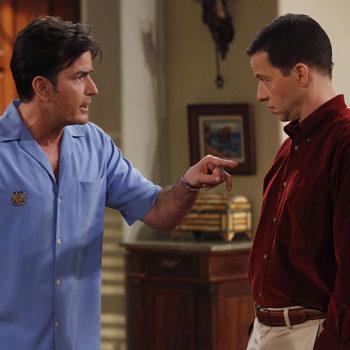 Charlie Sheen has angered the production staff and crew of Two and a Half Men with his recent vitriolic attack on co-star Jon Cryer, RadarOnline.com has learned exclusively.
As Sheen continues his Media Madness tour, firing salvos at practically everyone and everything, he called Cryer "a troll" and ripped into him, saying: "Jon has not called me. He's a turncoat, a traitor, a troll. Clearly he's a troll. Is it gonna take me calling him a 'traitor, juvenile and scared' for him to get it?"
Article continues below advertisement
And in an interview with Southern California's K-EARTH 101 radio station Wednesdays morning Sheen claimed Cryer could not remember his lines and ruined scenes as a result.
All of these comments have alienated and angered the crew, one source told RadarOnline.com.
"Those comments about Jon are totally unjustified. Everyone working here knows he was one of the most professional cast members who would turn up early and always knew his lines," a show insider told RadarOnline.com.
"In fact, he would often eat with the crew and he was very well liked by everybody on the set… he was very popular with everyone."
Sheen later issued what he called a "half apology" to Cryer.
Some mop-up work was performed at the studio on Wednesday and one person told RadarOnline.com, "it's extra sad because we may now be never coming back."
Warner Bros. fired Sheen but has not announced if the show will proceed with a new actor.
MORE ON:
Two and a Half Men
Article continues below advertisement
Cryer plays Alan Harper, the brother of Sheen's character Charlie Harper. Cryer has remained publicly silent through the entirety of Sheen's tirade and war with producer Chuck Lorrre and others.
John Stamos, Rob Lowe, Matt Dillon and Steve Carell have all been mentioned as possible replacements for Sheen.
But our source said: "Nobody really knows if they will bring anyone else in – or if it would work.