Exclusive
EXCLUSIVE: Real Housewife Of Beverly Hills Star Taylor Armstrong & Husband In Therapy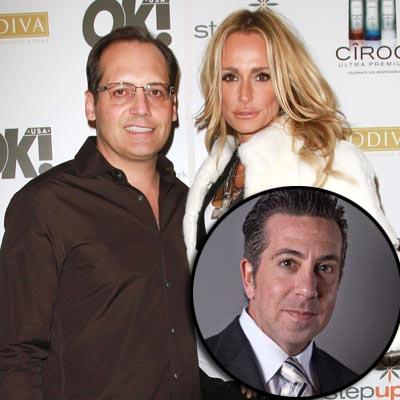 Real Housewives of Beverly Hills beauty Taylor Armstrong and her husband, Russell, showed signs of strain in their marriage on the Bravo hit show and now RadarOnline.com has exclusively learned the couple is in therapy.
Audiences watched the first season of the show as the pair seemed to become more disconnected and a source close to the situation tells RadarOnline.com that the couple is trying to work through their issues with the help of renowned psychiatrist, Dr. Charles Sophy.
Article continues below advertisement
"Dr. Sophy was introduced to Taylor by their mutual friend, Adrienne Maloof-Nassif. Adrienne is truly the anchor for the cast members, they all gravitate towards her for guidance. Adrienne wants Taylor to find peace, and Dr. Sophy is helping her do that."
And while the couple takes steps to repair the breakdown in their marriage, we're told several of the sessions with Dr. Sophy will be filmed for the upcoming season Real Housewives of Beverly Hills, although Russell is not quite as receptive to the cameras as Taylor.
"Dr. Sophy has seen Taylor and Russell together, and separately. Some of Taylor's sessions with Dr. Sophy will be filmed and featured on the second season. Russell hasn't decided yet if he wants to participate on camera. Dr. Sophy has provided the couple with a great deal of guidance, and they genuinely do seem to be working through their issues. Russell comes across on camera as being very aloof, and reclusive, that just isn't who he is. Russell wants to work to improve the marriage, it just isn't Taylor, which is a very, very good sign for the future of their marriage."
Article continues below advertisement
Dr. Sophy is a board certified psychiatrist - his patients include, Paris Hilton, Mel B and her husband Stephen Belafonte.
"Dr. Sophy has been a tremendous help for Mel and Stephen," says the source, adding "Their sessions with Dr. Sophy were featured on their reality show. Dr. Sophy doesn't preach to his patients - he gives them every day, practical tools to work through their problems. Dr. Sophy has a no-nonsense approach, but he is also very calming, and can deal with very strong personalities."
Another source close to the couple tells RadarOnline.com that there is "a little stress in the marriage" and the pair want to make their marriage work.
"Taylor obviously thinks family is super important and wants what best for her daughter. So she is taking steps like any responsible wife would and wants to work on her relationship with her husband."
The Armstrong family also welcomed a new addition into their home and their daughter, Kennedy, couldn't be happier about it.
Article continues below advertisement
"Last season, viewers watched in horror as Russell bought Kennedy, a puppy, named Snowball. Yet, Kennedy was extremely allergic to the dog, and Taylor decided that Snowball had to go. There were a lot of feelings of anger because Taylor felt that she was the bad guy for giving the dog away, and Russell hadn't consulted her before buying the dog. They wanted to get Kennedy another dog that she wouldn't be allergic to. They recently adopted a Chihuahua and named her Jax. Kennedy isn't allergic to the new dog, and she loves having a puppy in the house," says the source.