EXCLUSIVE PHOTOS: Kyle Richards Celebrates Her Daughter's Birthday With A Princess Party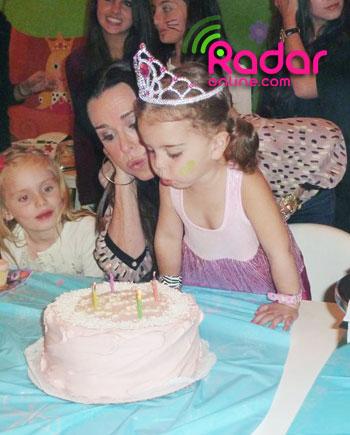 Beverly Hills Housewife Kyle Richards threw her daughter a birthday party fit for a princess, and she invited RadarOnline.com to get an exclusive look at all the family fun.
It was a kids' day out on Monday, as the devoted mother-of-four organized some festive fun at Giggles N' Hugs in Century City for her youngest daughter, Portia, who turns three years old on Tuesday.
From Cinderella decorations to bundles of colorful balloons and a table topped with presents, the tiny tots frolicked in the playground to watch a puppet show and sing and dance, while Kyle took photos to commemorate the milestone.
Article continues below advertisement
It was all for the birthday girl who donned a pink tiara just for the occasion.
"Portia is obsessed with being a princess," gushed Kyle exclusively to RadarOnline.com. "And I don't know where she got it because I was a tomboy," she added with a laugh.
Kyle said she searched far and wide for anything Rapunzel and Arielle on the birthday wish list—even a crown and wand for her perfect princess.
"She's like her mom. She likes sparkles and sequins!" boasted Kyle.
It was a family affair as proud father, Mauricio, and Portia's older sisters Farrah, 22, Alexia, 14, and Sophia, 11, and all the special guests munched on kid-friendly mac 'n' cheese, pasta and pizza.
And with a little help from mom and dad, the birthday girl blew out her candles on not one—but two!—decadent cakes and red velvet cupcakes from Magnolia Bakery.
Other familiar faces brought along their little ones, including fellow Housewife Taylor Armstrong with daughter, Kennedy; and Ali Landry and her little girl, Estela.
Article continues below advertisement
"I adore Portia. She's the cutest little girl," Taylor told RadarOnline.com. "My daughter Kennedy loves mothering Portia because she's a couple years older so she thinks it's really fun to be around the smaller children and get to be the big sister for the day."
And it wouldn't be a party without the Hilton contingent. Nicky showed up with beau David Katzenberg to surprise her cousin (and snap photos on her iPhone) and her mom (and Kyle's sister) Kathy came bearing gifts for her niece.
"I'm the auntie so all my nieces are like my kids," Kathy told RadarOnline.com. "Our family is like that."
Portia enthusiastically opened her gifts only to find what every little girl wants—a teddy bear, a porcelain piggybank adorned with delicate butterflies, and adorable pink and polka dot dresses.
"My whole family and friends are here," Kyle said, "so we're having a lot of fun."
RELATED STORIES:
VIDEO: Camille Grammer Apologizes To Kyle Richards On Real Housewives of BH Reunion Show