Exclusive
EXCLUSIVE: Liz Taylor's Final Goodbye To Pal Zsa Zsa Gabor: 'There's Nothing More To Live For'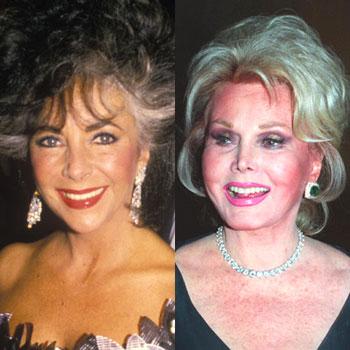 Elizabeth Taylor told close friend Zsa Zsa Gabor she had "nothing more to live for" when the pair saw each other for the last time, RadarOnline.com is exclusively reporting.
Gabor's husband Frederic Prinz von Anhalt recounted the last time the screen legends saw each other, when Taylor visited her pal of more than three decades at UCLA Ronald Reagan Medical Center in Los Angeles, last month.
"It was a tearful reunion and a very sad, tragic goodbye," von Anhalt told RadarOnline.com, in an exclusive interview.
Article continues below advertisement
"They both knew it would probably be the last time they'd see each other, and – with Liz's death today – it was.
"Liz sat in her wheelchair beside my wife, who was laying in bed."
Taylor told 94-year-old Gabor: "I'm so depressed. I just can't go on any more. There's nothing more to live for. What have I got to live for?"
EXCLUSIVE PHOTOS: Zsa Zsa's Husband Shows Off A Few Of Her Furs
As RadarOnline.com reported, 79-year-old Taylor died in the early hours of Wednesday morning from congestive heart failure after having been hospitalized at Cedars-Sinai Medical Center for the last six weeks.
Said von Anhalt: "Liz was trying to keep a stiff upper lip for my wife, you know. She told Zsa Zsa, 'Well, just hang in there. You'll get out of here soon enough. We'll get together again and have a little party, just like old times.'
"Sadly, that final visit never happened."
Gabor and Taylor lived in the same Bel-Air neighborhood where they would often have parties together at each other's homes.
"They were close friends, they were neighbors, and they were also someone the other could go to, to confide in," von Anhalt said.
Article continues below advertisement
"They shared a couple of laughs. But after that visit, that was it. They said goodbye, and that was it."
As RadarOnline.com revealed, Gabor "went hysterical" after she was learned of Taylor's passing while watching TV and had to be rushed to a hospital.
Gabor has been struggling with health problems and was just released from the hospital herself at the beginning of the month.
She has one leg amputated and is struggling with an infection in the second one.