Exclusive
EXCLUSIVE: Lindsay Lohan's Secret Plan To Stay Out Of Jail Revealed!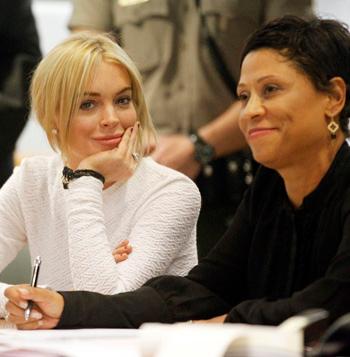 Lindsay Lohan has a secret plan to stay out of jail if Judge Stephanie Sauntner rules that she violated her probation for getting charged with felony grand theft, RadarOnline.com is exclusively reporting.
A source close to Lohan reveals: "Lindsay is taking a HUGE gamble by proceeding forward with the case. Her preliminary hearing is set for April 22, 2011. At the conclusion of the preliminary hearing, Judge Sautner will determine if there is enough evidence to proceed with a trial against Lindsay and if Lindsay violated terms of her probation.
Article continues below advertisement
"If Judge Sautner decides to proceed with the criminal trial, Lindsay will automatically be found in violation of her probation. Judge Sautner ROUTINELY remands repeat offenders on probation violation upon determining that a violation occurred. If Judge Sautner determines that Lindsay violated her probation, Lindsay's attorney, Shawn Holley, will ask that Lindsay not be remanded into custody.
"Holley will ask Sautner to delay sentencing for Lindsay, and ask that she be allowed to stay out on bail pending her trial. She will argue that if Lindsay is found guilty at trial, then Sautner can tag that jail time onto Lindsay's sentence. Lindsay and Shawn are confident, that once the defense is presented, Judge Sautner will realize that the store owners of the jewelry store are lacking credibility, and that Lindsay in no way stole that necklace, period."
A source in the DA's office tells RadarOnline.com: "Judge Sautner will most likely order Lindsay into custody immediately if she is ordered to stand trial and she finds that she violated her probation. The DA would likely only ask for six months in county jail for the probation violation but, Judge Sautner could go above and beyond that.
"Judge Sautner is very, very tough. Yes, she is fair, but when dealing with repeat offenders, she shows no mercy. Judge Sautner is known for being a pro-prosecution judge."
Article continues below advertisement
Lindsay's attorney released a statement to RadarOnline.com yesterday, proclaiming her client's innocence: "Ms. Lohan has maintained her innocence from the moment this case was filed and she has never wavered. Though many advised her to follow the safe route by taking 'the deal', the truth is, Ms. Lohan is innocent; she has a strong defense; and we are confident that a jury will listen to the evidence fairly and acquit her."