Exclusive
EXCLUSIVE: Lindsay Lohan's Accuser From Betty Ford Returns To Work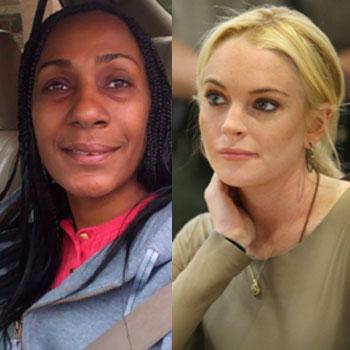 Dawn Holland - the former Betty Ford rehab worker who got involved in a bust-up with Lindsay Lohan - has returned to work as a care provider, RadarOnline.com can exclusively reveal.
And while the famous actress walks a legal tightrope over her grand theft charge and parole violation Holland's lawyer, Owen Latham McIntosh, has told us that the time is "fast approaching" on whether he will file a civil suit against her.
Article continues below advertisement
Mother-of-two Holland has been trying to re-build her life following her altercation with Lohan last December – the incident is still being probed by the Riverside District Attorney's Office although no charges have been filed to date.
An independent insurance company recently found that Holland "was not the aggressor" in the case and she was awarded some retro-active payments after she was fired from the Betty Ford Center for selling her story to the press.
McIntosh told RadarOnline.com: "I can confirm that my client returned to work two weeks ago and she is being employed in the care giver arena once again.
"She is delighted to be back at work and that she can provide for her two children through her employment – we are still fighting to get all her retro-active payments from her previous job.
"We are monitoring what is happening with Lindsay Lohan and I would say that the time is 'fast-approaching' if we will be filing a civil suit or not.
Article continues below advertisement
"It works in our favor that Miss Lohan is doing better actually and is also trying to seek various movie projects while dealing with her legal issues too.
"And we have not heard anything new from the Riverside District Attorney's Office about what they are planning to do with regard to this case."
Holland claimed that she was injured after Lindsay allegedly attacked her at the Betty Ford Center after the actress returned late one night.
RadarOnline.com broke the story that Michael Lohan offered $25,000 to Holland after the worker refused to cooperate with the police investigation against Lindsay. We also reported exclusively that the prosecutor handling the case suspects Holland stopped cooperating with investigators because of a potential payoff.
On Thursday, Judge Keith Schwartz gave Lindsay Lohan and her legal team more time to decide if they will accept his offer to plea out her case.
Article continues below advertisement
He ordered that the case be sent to Judge Stephanie Sautner for a preliminary hearing on April 22, 2011, if Lohan does not accept a plea deal.
Lindsay was given the option to return before Judge Schwartz on March 25, 2011, where she can plead either 'guilty' or 'no contest' to the grand theft charge.
If Judge Sautner rules that Lohan did violate her parole then the actress in all likelihood will be sent to jail as she awaits her trial.