EXCLUSIVE: Fired Betty Ford Center Worker 'Feels Sorry' For Lindsay Lohan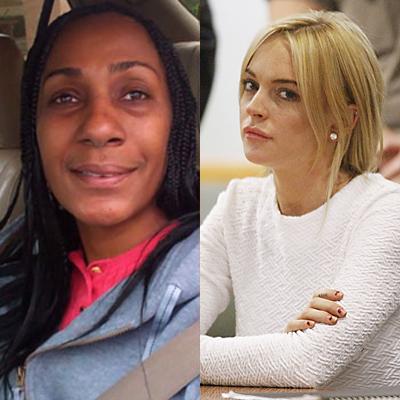 Former Betty Ford Center worker Dawn Holland feels sorry for Lindsay Lohan, despite the fact that the troubled actress played a role in the chain of events that led to Holland's firing from the famed clinic, RadarOnline.com has exclusively learned.
The mother-of-two lost her job for selling Lindsay's private medical records to a gossip web site after the two got into an altercation last December. Holland says she suffered injuries in the incident which have left her unable to work.
Article continues below advertisement
An independent insurance company recently found that Holland "was not the aggressor" in the altercation, and Holland's lawyer Owen Latham McIntosh is still considering if he should file a civil suit against the Mean Girls star.
The Riverside District Attorney's office is still investigating the incident, but despite all the turmoil Lohan has caused Holland and her family, Holland derived no satisfaction when the news broke Wednesday that Lindsay was being charged with felony grand theft for allegedly stealing a $2,500 necklace from a jewelry store in Venice Beach, California.
Holland's lawyer Owen Latham McIntosh exclusively told RadarOnline.com: "Dawn derived no satisfaction from the events. She feels sorry for Lindsay Lohan actually, despite of everything that happened.
"She (Holland) is a sensitive person, and despite everything that has happened because of the incident at Betty Ford with Lindsay Lohan, she is now just trying to focus on her own situation and family.
"Let's be honest, Lindsay Lohan is a talented young lady who was once at the top of Hollywood, but she just can't seem to get her act together and it's a sad situation.
Article continues below advertisement
"The Judge in her case will ultimately have to deal with her actions because she was on probation and this is a felony charge that she is now facing.
"We still have not heard anything back from the Riverside District Attorney's Office, and there are a number of factors that need to play out before we decide to file any civil suit against Miss Lohan. We do not want to stand at the bottom of any line here.
"Dawn will be getting her disability benefits re-instated, and she is still receiving treatments for her injuries."
Holland claimed she was injured after Lindsay attacked her at the Betty Ford Center when the actress returned late one night.
RadarOnline.com broke the story that Michael Lohan offered $25,000 to Holland after the worker refused to cooperate with the police investigation against Lindsay. We also reported exclusively that the prosecutor handling the case suspects Holland stopped cooperating with investigators because of a potential payoff.