EXCLUSIVE: Jenn Sterger Demanding Photos Be Removed From Website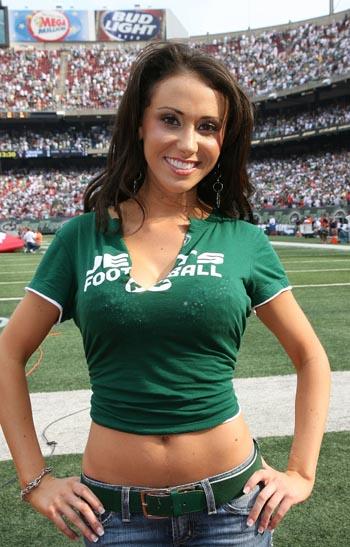 Jenn Sterger's lawyer Jeff Brown wants sports agent Phil Reese to remove images of the attractive brunette from his official Player Relations Public Relations website, RadarOnline.com can exclusively reveal.
Despite the fact that Sterger has filed a lawsuit against Reese to prevent him using Brett Favre's 'sexting messages' to her for commercial gains, the powerful agent still has two images of her on his site.
Article continues below advertisement
Sexy Sterger is on a photo reel including sports stars and celebrities like Floyd Mayweather, Matt Dillon, John Legend, Miles Austin and Eli Manning, which are used to promote Player Relations Public Relations in New York.
Her lawyer Jeff Brown told RadarOnline.com: "He should take the images down now. "Jenn is doing fine and we are confident we have a really solid case here because Mr Reese has no binding contractual agreement with my client.
"Jenn Sterger does not want to profit in anyway from Brett Favre's communications and she never believed that Mr Reese wanted to use them for those purposes either.
"My client has remained silent about this for four years now and the truth is that it has impaired her employment opportunities. She does not want to be known as the Brett Favre 'text woman' and Mr Reese has no right to have any communications in his possession. He will have to return them or we will pursue our litigation against him which we are very confident will be successful."
Article continues below advertisement
Sterger filed the lawsuit in Hillsborough County Circuit Court Tuesday, contending that Reese plans to use the e-mails, texts and other digital communications to Sterger from the NFL legend in a book of his own.
In court documents, Sterger claims that she never intended the agent to have full use of the voicemails and images and asks a judge to invalidate a book agreement with manager Phillip Reese.
COURT DOCUMENTS: Read Jenn Sterger's Lawsuit Against Phil Reese
The Sterger and Favre story blew-up after the website Deadspin published texts and lewd images that they claimed were sent by the famous quarterback.
The Gridiron legend admitted sending voicemails but not images to Sterger while he was playing for the New York Jets and she was a game-day host for the team in 2008.
Favre was fined $50,000 by the NFL for not cooperating with their probe into the scandal.