EXCLUSIVE INTERVIEW: 'Teen Mom' Jenelle Evans: 'Motherhood Is Not What I Expected'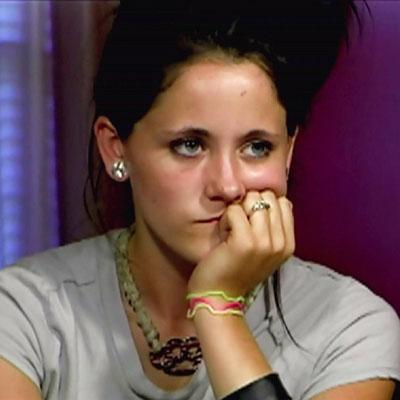 When you think of MTV's Teen Mom 2, what comes to mind are the hardships faced by young mothers while caring for their new babies on a day to day basis.
But that's not the case with Jenelle Evans, who made the emotional decision to sign custody of her beloved baby boy, Jace, over to her own mother. Viewers have since watched Evans ride the ups and downs of a volatile relationship with her mom, and in an exclusive interview with RadarOnline.com the reality star says their relationship hasn't improved and motherhood is not at all what she expected.
Article continues below advertisement
RadarOnline: Is motherhood what you had expected?
Jenelle: No motherhood is not what I expected at all
RadarOnline: What have been the biggest changes in your life since having a baby?
Jenelle: The big changes in my life since having a baby would definitely have to be trying to raise the money to actually move out on my own while attending work and school and dealing with maintaining relationships with my mom and my boyfriend.
RadarOnline: Has your relationship with your mother improved?
Jenelle: I thought my relationship with my mom would change since I have been seeing a therapist but even walking away from her doesn't work anymore. She continues to engage and follow me. I can't even get privacy in my own bathroom while taking a shower because she comes in there and yells at me.
RadarOnline: Do you regret signing custody of Jace over to your mom or do you feel it was a good decision?
Article continues below advertisement
Jenelle: Right now at this particular moment I know it was the best decision to sign over temporary custody because I need to get my life together before I consider bringing a baby into the situation.
RadarOnline: Is it difficult to see your mom and your baby so close or do you feel a sense of relief?
Jenelle: I love when I see my mom and Jace getting along. It's important for him to have as much support as he can because his father isn't around. What bothers me is when she doesn't let me spend time with him.
RadarOnline: What are your baby's favorite words right now? Any recent milestones?
Jenelle: Jace knows how to say bye bye, hi, that, cow, and truck. His latest milestones are learning new words everyday and instead of walking fast everywhere he is just constantly climbing and running around.
RadarOnline: How are you managing work, dating, school and motherhood?
Jenelle: I'm putting relationships on the back burner for a while, and I'm focusing on Jace and going to college. I'm starting a new semester this summer at the local community college. I'm so excited. Other then that I have been seeing a therapist who is helping me cope with some of my issues and stresses.
Article continues below advertisement
RadarOnline: What do you miss most about your life before the baby?
Jenelle: What I miss before I had Jace was not having to worry about anyone but myself but now it's a completely different story. I constantly worry about Jace everyday whether I'm with him or not. It's a mother's instinct I guess.
RadarOnline: What would your advice be for other teen moms?
Jenelle: Advice that I would give to other teen moms is to use birth control if you are having sex or considering having sex. Enjoy your teenage years because you will have all the time in the world to enjoy your children when you get older.
VIDEO: Teen Mom 2's Jenelle Lip Syncs To Ke$ha
RadarOnline: If you could change anything about this time in life, what would it be?
Jenelle: What I would change about my life now would be having my own place to call home for me AND my son.
RadarOnline: Where do you see yourself in 10 years?
Jenelle: In 10 years I see myself living in a decent house with a decent car and with Jace and married to a man that deserves me and my family. I also see myself with a career as a film editor.
Article continues below advertisement