EXCLUSIVE INTERVIEW: Sex & The City Stylist Defends Dior Designer Who Made Anti-Semitic Remarks, Criticizes Natalie Portman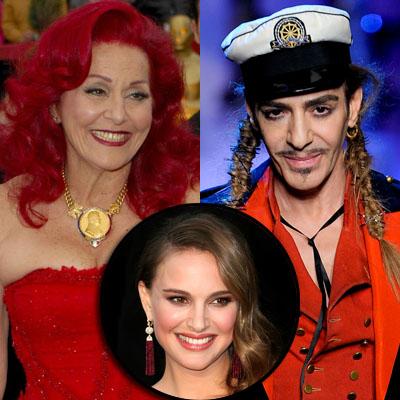 In remarks that are certain to enflame an already controversial situation, famed Sex And The City stylist and clothes designer Patricia Field told RadarOnline.com that Oscar winner Natalie Portman and others were too quick to judge fashion icon John Galliano, who was caught making anti-Semitic remarks.
It was announced Wednesday that Galliano will stand trial later this year for making his alleged anti-Semitic remarks in Paris, France, and could be sentenced to six months in jail if found guilty.
Article continues below advertisement
But as Galliano has left people shocked and appalled, Field is standing up to defend him.
She told RadarOnline.com: "I think Natalie Portman and others have been too quick to judge in this case without all the information being collected.
"Look, I'm not saying that anti-Semitism is acceptable in any way, because it is not.
"But I honestly believe that until the judicial process runs its course, any judgements should not be made so quickly.
Article continues below advertisement
"What I'm saying is that I don't think that it is fair for anyone to be judged like that just on little bits and pieces of information without hearing the other side of the coin."
After Galliano's hate scandal became public, he was axed as head designer with fashion giant Dior while Portman -- fresh off her Oscar win for Black Swan -- told the New York Times that she was disgusted by the video of his comments and that she would no longer be associated with him.
Article continues below advertisement
Galliano said he had remained quiet on the advice of his French lawyer, but wanted to make his "position clear" because of delays in the case.
And despite the fact that many fashion observers believe that he committed 'career suicide' with the alleged remarks Field is still prepared to vouch for his character.
She added: "I have known John for many years and I would vouch for his character.
"But at the end of the day I was not there and do not know what really happened but I feel that he has been judged far too quickly without all the information being fully known yet."