Exclusive
RADAR EXCLUSIVE: Sheen & His Manager Deny Brooke Mueller's Charge Of Anti-Semitic Text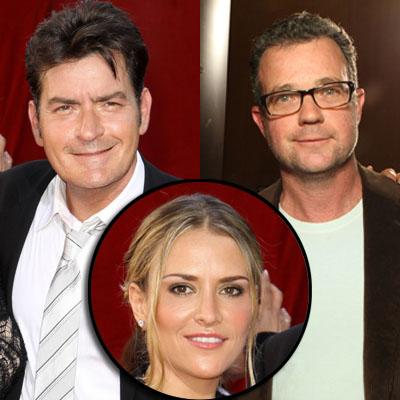 Charlie Sheen and his manager Mark Burg are speaking out to RadarOnline.com, blasting an allegation from the actor's estranged wife that the Two and a Half Men star sent a shocking anti-Semitic text message.
Brooke Mueller went to court Tuesday and obtained a restraining order against Sheen and also regained custody of their twin boys. She submitted a copy of a text message that she said is from Sheen. The message said: "I must execute mark b like the stoopid jew pig that he is."
Article continues below advertisement
But Sheen told RadarOnline.com that he never sent the message and that Mueller had control of his phone at one point.
Burg told RadarOnline.com that Sheen is not anti-Semitic and that Brooke has previously texted him from Sheen's phone pretending to be Charlie!
In defense of Sheen, Burg told RadarOnline.com: "Charlie's ex publicist Stan Rosenfield is Jewish. I'm Jewish. His entertainment attorney Jake Bloom is Jewish. His litigation attorney in the Warner Brothers and CBS matter Marty Singer is Jewish. His divorce lawyer Mark Gross is Jewish. In fact, his two twin boys are Jewish.
"I don't believe Charlie sheen to be an anti-Semite. I know there is a war between Brooke Mueller and Charlie Sheen at the moment and I also know that Brooke Mueller has texted me from Charlie's phone purporting to be Charlie and has done that also to members of his family. I do not believe Charlie Sheen would ever have made such a remark."
Sheen was embroiled in an anti-Semitic controversy last week when he referred to his Warner Bros. nemesis Chuck Lorre as Chaim Levine.
Article continues below advertisement
On Wednesday he told RadarOnline.com about Brooke's new allegations: "Both Natalie and Rachel observed Brooke using my phone in the week before we went to the Bahamas. They did not think anything of it at the time, however it is clear that she was repeating behavior that she had previously displayed.
"I never made an anti-Semitic remark about Mark Burg.
"Lies are the fuel that cowards drink."
Mueller was living with Sheen, former adult star Bree Olson and Natalie Kenly before the group went to the Bahamas late last week. Sheen told RadarOnline.com that Brooke was using drugs and he booted her off the island.
People.com first reported the existence of the text message.
RELATED STORIES: