EXCLUSIVE INTERVIEW: Fergie Spends Her Birthday Running In Rain To Raise Money For Japan Relief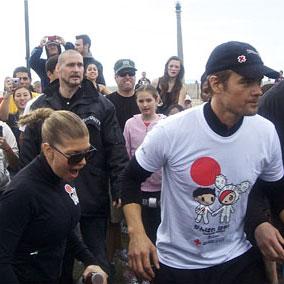 Instead of going to a spa or a Hollywood club, Fergie spent her 36th birthday this weekend running in the rain with hubby Josh Duhamel and thousands of others to raise money for the Japan tsunami relief fund, and RadarOnline.com has exclusive interviews with the charitable celeb couple.
Despite the nasty weather, 4,000 supporters, including Paris and Nicky Hilton, joined Fergie and Josh at the Josh Duhamel tokidoki Youth Relief Run for the American Red Cross on Sunday at the Santa Monica Beach to raise $140,000 for the victims in Japan.
Article continues below advertisement
"People have just shown up with a really good attitude, and it's my birthday!" exclaimed the excited Black Eyed Peas singer after the two-mile fun run. "I've got my mom here, my old school friends came like Stephanie from Wild Orchid. I'm just excited to be here, it was a great thing to do to give back on my birthday."
Duhamel organized a similar run last year to raise money for Haiti and was motivated to do it again after the shocking disaster in Japan on March 11.
"I just wanted to do something," the Life As We Know It star said in an exclusive interview with RadarOnline.com. "When everything happened in Haiti last January, more than just writing a check out I felt this overwhelming want and need to actually pitch in and nobody could get there. The idea was that we wanted to give people the opportunity to actively contribute in some way even if you couldn't be there."
Article continues below advertisement
Duhamel went on to explain why this disaster in particular had touched his heart. "Seeing some of the images coming out of Japan, I'd never seen anything like it," he revealed. "To hear about all the people who are missing and then everything that is going on with the nuclear plants.
"Yes, Japan is a developed nation and they're a lot more structurally sound than Haiti, but those people are suffering too. I just want people to remember that."
Paris and Nicky Hilton were at the event to support the charity and to help gal pal Fergie celebrate her birthday.
"We love Japan, we've been going there and doing business since we were teenagers, it's always been a place close to our heart and we have a lot of friends out there," said Paris.
Nicky explained, "We've known Josh forever, and it's Fergie's birthday today."
"Paris and Nicky Hilton have been huge, just by them tweeting about it got us a lot of recognition," explained Duhamel. "Ashton (Kutcher) tweeted about it, Will.i.am tweeted about it. Everyone I knew who had big followings really contributed and for that I'm grateful as I never could have reached so many people without them."
Article continues below advertisement
While they're extremely serious about the cause, Josh and Fergie still had fun with a little marital competition. When asked if he could beat his wife before the race, Josh replied, "Probably not, she's a fast little runner."
6'3" Josh crossed the finish line first, but the Where Is the Love? singer credited his height for the victory rather than speed. "It's not fair because Josh has longer legs. He can walk at the same place as I jog," she told RadarOnline.com.
Josh and the rest of the runners wore sponsored tokidoki tee-shirts (their sale alone raised $90,000), and ate Pop Chips and Fat Burger, who donated 100 per cent of their proceeds to the American Red Cross.
"I'm definitely going to have a bite of Fatburger," confessed Fergie after the race, while Paris grabbed one even before she ran!
Beverage sponsors Smart Water, Powerade, Oxylent and Coke Zero all refreshed the runners, and Josh was decked in head-to-toe Puma, who sent thousands of pairs of sneakers to Japan in his name.