EXCLUSIVE: Ex-Fiance Of Charlie Sheen's Goddess: 'I'd Do Anything To Help Her Out'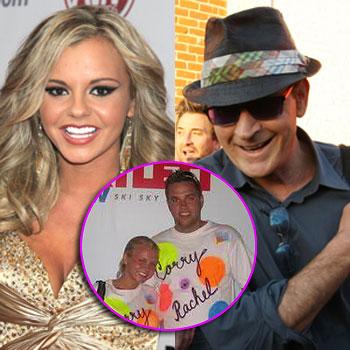 Despite a painful break-up last year, the former fiancé of Charlie Sheen's new love, Rachel Oberlin, still keeps a candle burning for the adult star, whose professional name is Bree Olson.
"We're friends. I'd do anything to help her out," said Corry Young, who dated Oberlin, from Fort Wayne, Indiana for a year before the two were engaged for six months in 2010.
"We broke up a long time ago and it had nothing to do with Charlie," he said, adding that he'd like to keep the reasons behind their split private.
Article continues below advertisement
"I care about Rachel Oberlin, not Bree Olson.
"I wasn't with her for the industry, the fame or glamor. I loved her."
Although he admits to curiously watching Sheen's recent influx of interviews and says "he has his reputation", Young knows nothing about Oberlin's current relationship with the actor nor has he tried to contact her.
"I really don't know why she's with him," he said, adding, "I know her. She's a smart girl, she's not stupid. She's a very smart businesswoman.
"That's her business and I want to respect her privacy."
When asked if this was all just an elaborate publicity stunt for the former porn star, he didn't have an answer.
"She's knows what she's doing."
Sheen's press blitz over the last week has also centered around his 23-month-old twins boys, Max and Bob, who were taken away from him earlier this week after his estranged wife Brooke Mueller filed a restraining order. Now they're battling over custody.
Article continues below advertisement