Exclusive
EXCLUSIVE DOCUMENT: Charlie Sheen Lawyer's Blistering Letter To CBS -- READ IT HERE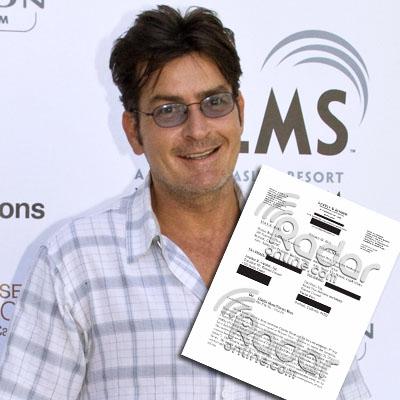 Charlie Sheen's legal team has sent a blistering legal letter to CBS and Warner Bros. TV demanding that the star be paid for eight canceled episodes and promising to sue Warner Bros. PLUS Chuck Lorre – and only RadarOnline.com has the document.
Los Angeles' top attorney Marty Singer of Lavely & Singer makes it clear in the letter that Sheen is prepared to litigate and contends the companies have violated Sheen's rights and contract. He takes aim at Lorre, writing that Warner Bros. and CBS canceled the show episodes "not because of my client's condition but in retaliation for your show runner being criticized." He also accuses them of "pampering" Lorre.
Article continues below advertisement
EXCLUSIVE DOCUMENT: Read Sheen's Lawyer's Blistering Letter
Citing the decision to cancel production of Two and a Half Men for the rest of the season, Singer writes: "This action is outrageous and in direct violation of our client's legal rights, including under the contract between our client and Warner Bros. Television with regard to Two and a Half Men ("the Series"). Our client is entitled to be paid for eight additional episodes under his contract on the Series."
Sheen is ready to work and clean and sober, the letter states. "Furthermore, my client is clean and sober and has passed every drug test requested," the letter reads. "In fact, he took passing tests this weekend."
READ CHARLIE SHEEN'S TOXICOLOGY RESULTS: Charlie Sheen Passes Blood & Urine Drug Test
Singer, who is annually chosen as one of Los Angeles' top attorneys, lets CBS and Warner Brothers know that this fight has just started. He writes: "He (Sheen) intends to hold Warner Bros. fully accountable for the compensation owed on his contract and to hold Warner Bros. and CBS fully accountable for all of the consequences of their actions." The lawyer states that if Sheen is not paid for eight remaining episodes this season, "our client intends to bring appropriate legal action against Warner Bros., as well as against Mr. Lorre…"
Article continues below advertisement
Sheen's recent critical comments about Lorre are a response to Lorre's "ongoing campaign of harassing our client and making numerous derogatory and highly damaging statements about him", Singer writes. The letter backs up this claim with extensive quotes from the highly controversial "vanity cards" that Lorre has used at the end of shows to make thinly veiled unflattering remarks about Sheen and his lifestyle.
Singer says: "There is no justification for the Series to be shut down at this time. It is clear that this action is the result of interference by Chuck Lorre with our client's contractual rights. It is most unfortunate that Warner Bros. and CBS have conspired with Mr. Lorre in his tortuous and outrageous conduct in permitting him to shut down the show, thereby damaging many individuals and companies, in addition to our client."
Article continues below advertisement
Lorre has violated his own contract, the letter alleges, "…after our client simply responded to Mr. Lorre's unrelenting derogatory statements, Mr. Lorre retaliated by arranging to terminate production of the Series for the remainder of the season. The fact is that Mr. Lorre refused to perform under the contract, namely, to have the Series produced through April 8, 2011, long before Mr. Sheen made any statements about Mr. Lorre."
EXCLUSIVE VIDEO & PHOTO: Martin Sheen Visiting Charlie At The Hospital
And Sheen is still ready to work and expects to be back next season. After putting Warner Bros. and CBS on notice that they have breached the "pay or play compensation provisions" of Sheen's contract, Singer writes, " we want to again confirm that our client is ready, willing and able to perform his obligations with regard to next season's production of the series. We trust that you intend to pay our client for 24 episodes for next season's production of the Series …"
Article continues below advertisement