Exclusive
EXCLUSIVE: Charlie Sheen's Wife Wants Drug Tests For His 'Goddesses'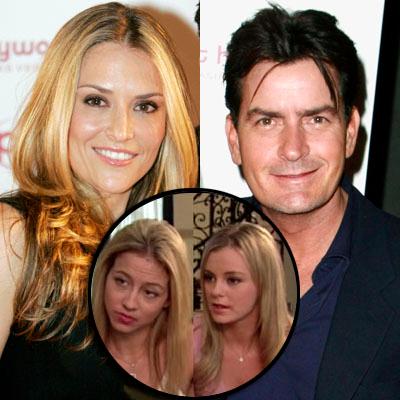 Brooke Mueller is instructing her lawyers to formally request that Charlie Sheen's "goddesses" submit to drug tests when he is given access to their children again, a source close to the situation tells RadarOnline.com exclusively.
"Brooke doesn't want the girlfriends around her sons," the source said. "One is a porn star, and the other is a marijuana magazine cover model. Brooke is seeking to control who is around the boys when Charlie has custodial time with them."
Article continues below advertisement
Sheen lives with retired porn star Bree Olson and Natalie Kenly, dubbing them "the goddesses" and giving America a glimpse into his life with them during various interviews. Mueller taking aim at the women Sheen calls his "family" is sure to escalate their fierce battle.
RadarOnline.com was with Sheen Tuesday night at his Mulholland Estates mansion as he complied with a court order to hand twin boys Max and Bob to Brooke. Los Angeles police were on the scene in "stand by" capacity.
Mueller admitted to having a relapse recently and has been sober for a week while working on her recovery, a source close to the situation told RadarOnline.com exclusively.
Sheen and Mueller's war went supernova this week as she obtained a temporary restraining order against the actor, accused him of threatening to behead her, sending an anti-Semitic text message and questioned his sanity. Sheen fired back and told RadarOnline.com that Mueller was back on drugs and supplied photos he said proved it.
Article continues below advertisement
The Two and a Half Men star has passed multiple drug tests after accepting RadarOnline.com's challenge to prove that he was clean, but Brooke wants anyone who's in close contact with their nearly two-year-old twin boys, Bob and Max, to take drug tests also.
"Brooke believes that just because Charlie is clean, for now, doesn't mean that his house is drug free. She is very, very concerned about the people that are in Charlie's life," the source said.
"Charlie is sober, right now. But, that could change in an instant, Brooke believes."
The source also says Brooke realizes the non-contact order in place barring Charlie from spending time with his sons will be only temporary. She wants to ensure that when the time comes for Charlie to see them again they are going to be in a safe and healthy environment.
"Brooke recognizes that Charlie will be allowed to see the boys again. It's just a matter of timing," the source said. "She did everything possible to avert taking this to court. She reached out to Charlie over the weekend, and she was rebuffed.
Article continues below advertisement