EXCLUSIVE: Charlie Sheen Won't See Twins On Birthday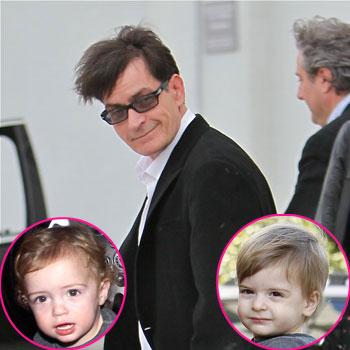 Even though he and estranged wife Brooke Mueller have reached a settlement over custody of their twin sons, embattled actor Charlie Sheen won't see his boys for their second birthday Monday.
As RadarOnline.com first reported, sheen, a dad-of-five, was locked out of Bob and Max's birthday at Rick and Kathy Hilton's mansion in Bel Air, California, on Sunday.
The famous father wasn't on the invite list, and now we've learned he won't even get a chance to wish the gorgeous boys happy birthday, in person, on Monday either.
Article continues below advertisement
Sheen hasn't seen the twins since cops made him surrender them to Mueller -- the emotional moments all caught on our cameras.
"Brooke will have custody of the twins on Monda,y and they will not be seeing Charlie," a source with knowledge of the custody arrangements told RadarOnline.com.
As we previously reported, Sheen and Mueller struck a custody agreement late on Thursday -- the terms of which remain confidential.
It's the third birthday that Sheen has missed in as many days; one of his two daughters with Denise Richards, Sam, turned seven last week and her dad wasn't at her party at a gymnastics studio in Los Angeles on Sunday.
However, as this we discovered in this exclusive RadarOnline.com video, there were plenty of wrapped presents at Casa Sheen for his children.
When asked about the kids' parties in the video, Sheen said: "I personally believe a lot of those parties are just for the photos for the adults and the Botox brigade. It's not even about the children."