Chris Brown & Publicist Part Ways After GMA Meltdown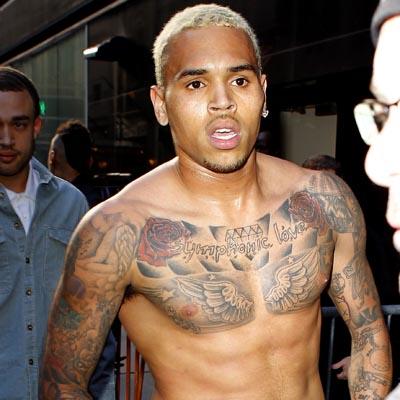 First, he lost his cool, then his shirt -- and now, his publicist.
After a wild week which included an uncomfortable Good Morning America appearance, a broken window and a half-hearted apology, Chris Brown's publicist Tammy Brook has parted ways with the volatile singer, according to the NY Post.
The publicist released this statement to RadarOnline.com about the Brown situation: "I am an entertainment/music publicist and was hired as a publicist, as they often are, to work specifically on his music publicity for the term up to the release of Chris Brown's F.A.M.E. album, which was released on Tuesday March 22 and is entering the Billboard and iTunes charts at number 1 this week. I love and support Chris and it has been an honor to be a part of this album and I look forward to the possibility of working with him again in the future."
Article continues below advertisement
As RadarOnline.com previously reported, the testy exchange between Brown and Roberts on Tuesday's program went as follows:
Roberts tried to delicately segue into the topic involving Rihana by asking Brown, "What's going on now is that recently, the restraining order against you that Rihanna had issued has been relaxed ... have you all ... seen each other, been around each other at events?"
Brown replied, "I mean not really, it's not really a big deal, that situation, I think I'm past that in my life, and I think today's the album day so that's what I'm focused on, so everyone go and get that album."
Brown said his new album's title, F.A.M.E., stands for "forgiving all my enemies and fans of my everything," in particular those who stood by him in "everything that I went through."
Brown said that his enemies are "just anybody naysayers, haters, whatever the case may be."
Roberts said, "But you can understand how some people, that was very serious what you went through, and what happened ... even the judge though, afterwards, said you had served your time and community service and all that."
Article continues below advertisement
Brown testily replied, "I've been focused on this album... definitely this album is what I want them to talk about, and not the kind of stuff that happened two years ago."
Roberts said, "Well thank you for letting me go this way, because there had been a lot of people tweeting about it."
The muscular singer, sporting bleached blonde hair, was snapped shirtless walking the New York streets directly after the meltdown, which left a window shattered.
He then took to his Twitter page to vent further: "I'm so over people bringing this past s--- up!!! Yet we praise Charlie sheen and other celebs for there b-------!" Brown tweeted right after the incident, but removed it just moments later.
ABC News said in a statement following Tuesday's fiasco: "As always, we ask questions that are relevant and newsworthy, and that's what we did in this interview with Mr. Brown."
Article continues below advertisement
After the crazy day, the Forever singer, appearing on BET's 106 & Park on Wednesday, "apologized to anyone he startled" in an informal segment with music blaring in the background.
"First of all, I just wanna apologize to anybody who was startled in the office, anybody who was offended or really disappointed in my actions, because I was disappointed with the way I acted," Brown said Wednesday. "A lot of people don't know what went down, and obviously when I do shows or when I do interviews, we always send out a talking point sheet. As the interview proceeded, it was kinda thrown off. I was thrown off by it.
"I felt like they told us this just so they could get us on the show so they can exploit me. So I took it very, very hard and I really kinda kept my composure throughout the whole interview, although you can see me upset, I kept my composure, I did my performance."
Brown continued, "And when I got back stage I just let off steam. I didn't physically hurt anyone, I didn't try to hurt anyone, I just wanted to release the anger that I had inside me because I felt that I worked so hard for this music and I felt like people kept just trying to take it away from me.
Article continues below advertisement
"So yes, I got very emotional, and I wanna apologize for acting like that."
Brown was sentenced to five years probation and ordered to do 180 days of community labor as a part of the plea deal he made in June 2009 for the assault, which took place in in Hancock Park, California. The restraining order issued to Brown orders him to keep his distance from the S&M singer for five years.
RELATED STORIES:
EXCLUSIVE: Chris Brown's DWTS Appearance To Go Ahead -- Cast Ordered Not To Comment