Chris Brown Returns To ABC Tuesday; Will Sing On Dancing With The Stars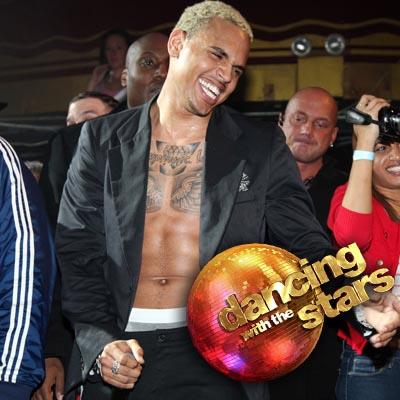 A week to the day he presumably smashed a window at ABC's New York studios in a fit of rage, Chris Brown will make his return to the network, although this time on the West Coast, as the volatile R&B star is slated to perform two songs on Dancing with the Stars Tuesday night.
Brown last week "apologized to anyone he startled" after the incident, following a testy Good Morning America appearance in which he was agitated after ABC's Robin Roberts questioned him about the brutal beating he laid on his then-girlfriend Rihanna in 2009.
Article continues below advertisement
The Forever singer, next appearing on BET's 106 & Park, claimed he "had to blow off steam and let out the anger" after the appearance, in which he wanted to promote his new album F.A.M.E. instead of dwelling on past events.
"When you have to grow up in front of the world it's very hard to be perfect!" Brown, 21, tweeted early Tuesday.
The show's host Tom Bergeron told On Air with Ryan Seacrest Monday that he won't be shy to pry a bit about Brown's controversial background, from the Rihanna beating to the GMA incident.
"I did say to the producers it might be to their advantage to not have me interview him, because my natural tendency would be to say something," Bergeron told Seacrest. "So don't put me in a position where you're asking me to not say something, 'cause I won't really do that."
"I would be the same," Seacrest said.
"Even if it's just a snarky little aside, you know, 'How was your week?'" Bergeron said, joking the show's producers will "probably have me in a Hannibal Lecter suit" to ensure he doesn't rock the boat.
Article continues below advertisement
Brown was sentenced to five years probation and ordered to do 180 days of community labor as a part of the plea deal he made in June 2009 for the assault, which took place in Hancock Park, California. The restraining order issued to Brown orders him to keep his distance from the S&M singer for five years.
Someone will be sent home when Dancing with the Stars returns on ABC Tuesday at 9/8c.
RELATED STORIES: