EXCLUSIVE INTERVIEW: Dancing With The Stars' Romeo -- 'Vote For Me; The Shirt Will Come Off!'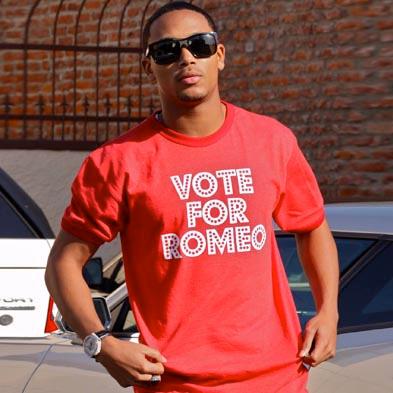 Dancing with the Stars contestant Romeo has a lot to live up to after his father, Master P, bombed on the show, but he says if it doesn't work out he'll just go on the Jersey Shore where he can show off his abs.
"I think it would get better ratings because I've been working out like crazy lately," Romeo told RadarOnline.com in an exclusive interview.
"I've got the abs, I've got the biceps. You know, me and The Situation flashing our abs to all the girls."
Article continues below advertisement
But according to Romeo, the ladies have a chance at seeing his washboard stomach if they continue to vote and keep him on Dancing with the Stars.
"If you keep voting for me...the shirt WILL come off!" Romeo promised.
On a more serious note, the 21-year-old rapper said they have a great cast this year and said it will be a "really magical season" and he "wishes everyone on the show could win."
Partnered with professional dancer Chelsie Hightower, he says they're the perfect match for each other.
"We're the youngest two on the show and she really understand me and gets me," Romeo said.
"She knows what she wants out of this and I know what I want, but at the same time we have a lot of fun."
VIDEO: Kirstie Alley & Ralph Macchio Dominate DWTS Premiere
But it's a different Chelsie that's caught his eye behind the scenes, and Romeo tells RadarOnline.com that he writes love letters to fellow competitor Chelsea Kane.
Article continues below advertisement
"Chelsea Kane, I write her romantic love letters but I don't give them to her," Romeo revealed.
"I've been watching The Notebook, so one day maybe I'll give them to her so she can really appreciate my love."
Other juicy details that Romeo divulged about what goes on behind the scenes include lots of practical jokes being played on each other and even karate matches with The Karate Kid himself, Ralph Macchio.
"Me and Ralph have karate matches behind the scenes," Romeo said.
"I told him, 'You're not 50 years old, I don't wanna hear that'!"
Although Romeo said he's closest on the show to Kirstie Alley, he said he doesn't have favorites and even wrote a song for all the women on the show called Famous Girls.
"I made a song for Dancing with the Stars and rapped about all the girls in the show. It's called Famous Girls featuring Sean Kingston," Romeo said.