Charlie Sheen's Prodigal Goddess Bree Olson Returns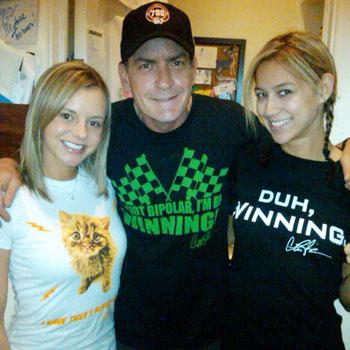 Charlie Sheen is winning once again after his retired porn star goddess, Bree Olson, returned to his Sober Valley Lodge in Sherman Oalks, California, mansion on Tuesday.
Taking to Twitter to spread the news, the off-the-wall actor was clearly happy to have his busty beauty back in his arms once more --and alongside his other goddess, Natalie Kenley.
"Told ya she'd be back," he wrote, adding: "Jealous face much?..Ybw"
Article continues below advertisement
Fears surfaced that the happy household had hit a rocky patch when the adult actress - real name Rachel Oberlin - went missing from Sheen's many twitpics and videos.
And it appeared for a short time that the former Two And A Half Men star was a one woman man.
But his latest picture prove there's no longer trouble in the polygamous paradise.
Wearing t-shirts emblazoned with his now infamous catchphrases, including, 'Duh, Winning' and 'I Have Tiger's Blood' the ménage à trois looked complete once again.