THE WEEK IN PHOTOS: Jen & Justin Get Haircuts, Douglas & Watts Battle The Paparazzi & More!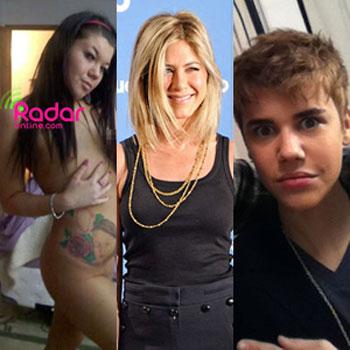 There's never a dull moment in the world of celebrities, scandal and controversy and what better way to see what happened this week in Tinseltown than through photos on RadarOnline.com!
There was something noticeably different about Pulp Fiction star John Travolta, when he and his and wife Kelly Preston were snapped as they relaxed over the weekend at their Hawaii beach house. The Face Off star was in the idyllic location to celebrate his recent 57th birthday.
Article continues below advertisement
Take that Camille! In the wake of his messy divorce with the Real Housewives Of Beverly Hills star, actor Kelsey Grammer and his much-younger fiancée Kayte Walsh didn't mind showing their affection for one another while on the balcony of a posh Miami hotel.
Rihanna owned the half-time show Sunday at the NBA All-Star game in Los Angeles, where the Barbadian hit-maker rocked the star-studded crowd with a medley of her songs. In the spectacular number, RiRi sprinkled in a few live duets with R&B chart-toppers Drake and Kanye West.
Following her 42nd birthday, Jennifer Aniston debuted a sexy new 'do at the Berlin, Germany premiere of her new film Just Go With It Monday. While the 'do is a bit shorter and sassier than we're used to, the gorgeous Friends star pulls it off with ease.
Coming off his triumphant All-Star NBA appearance, Justin Bieber got a new haircut that's sure to make all the girls swoon.
Article continues below advertisement
Tuesdays were so drab before Coco and Twitter came along. Ice-T's buxom better half decorated the popular micro-blogging site with some sexy pics in honor of the weekly trending topic known as "Titty Tuesday."
Robert Pattinson and Kristen Stewart returned to Vancouver, British Columbia to film Breaking Dawn this week, and this time they brought along a little pal: rising star Mackenzie Foy. Foy, 10, will play Edward and Bella's half-vampire, half-human daughter Renesmee Cullen in the fourth film in their smash-hit Twilight series.
Superior Court Judge Keith Schwartz told Mean Girls star Lindsay Lohan Wednesday she'd be headed to jail if she accepted a plea deal in connection with the theft of a $2,500 necklace from Venice Beach jewelry store. "If you plead in front of me, if this case is resolved in front of me, you are going to jail — period," Schwartz said.
On Wednesday, we received the newly-released mug shot of accused Arizona shooter Jared Loughner, which bears a striking resemblance to his previous mug shot. The pic shows Loughner's shaved head and eerie smirk, and a prominent laceration on the right side of his head we hadn't previously seen.
Article continues below advertisement
Lady Gaga dared to bare in some nude-colored pantyhose which left little to the imagination Wednesday. The Poker Face singer and her man Luc Carl were snapped heading into the St. James Theatre to see Green Day's Broadway Rock Opera, American Idiot.
Amber Portwood let it all hang out and posed nude – and only RadarOnline.com had the exclusive photos, which we posted here on Thursday. The Teen Mom star from Indiana, who posed for the racy photos a few weeks ago, "fancies herself an old-fashioned pin-up girl," an insider tells RadarOnline.com exclusively.
Halle Berry and Olivier Martinez, who have been dating since meeting on the set of their film Dark Tide last summer, took in dinner at Los Angeles' famed Chateau Marmont. The establishment is one of Tinseltown's biggest celebrity draws, and a favorite hangout of Lindsay Lohan in the past.
The tables were turned in Hollywood Thursday when a paparazzo called the cops on Naomi Watts in Brentwood. The female shooter claimed Watts slapped her video camera, when she was filming the star with her kids at a park in Brentwood.