VIDEO: Dina Lohan Speaks Out On Lindsay's Addiction: She Faces 'Lifelong Struggle'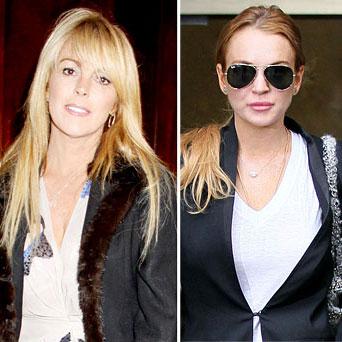 Dina Lohan is speaking out about her daughter Lindsay's very public troubles, which includes a felony theft charge and struggles with addiction, RadarOnline.com has learned.
Speaking to ABC News on Friday, Dina said despite Lindsay's recent stint in rehab, she still faces "a lifelong struggle with addiction."
"I believe that Lindsay doesn't drink anymore, and I think it's gonna be a lifelong struggle with addiction. But I think she's gonna be okay," Dina Lohan told Chris Cuomo in an exclusive taped interview scheduled to air on Friday night's 20/20.
Article continues below advertisement
"She's a young girl struggling. You know, she's not perfect... She's learning as she goes, but she's learning under a microscope, so I can't even imagine how that is," she told Cuomo.
PHOTO: Lindsay Rocks A White Bikini
As RadarOnline.com has previously reported, the Mean Girls star, 24, has been charged with felony grand theft for allegedly stealing a $2,500 necklace from a jewelry store in Venice Beach, CA. on January 22.
Lindsay maintains it's a simple misunderstanding, claiming she forgot to return the necklace after trying it on.
Dina told Cuomo that she could "absolutely not" imagine her daughter being a thief.
Dina also said she has been aware of Lindsay's issues and has tried to help her since the very beginning of her troubles.
"I knew early on, I just didn't tell anyone about it. It was a personal situation," she said.
Article continues below advertisement
PHOTO: Lindsay Topless In Manhattan
Dina said her daughter's troubles began almost immediately after she moved to Los Angeles in 2004 when she was just 18 and began hanging with a fast crowd.
Dina said she personally enrolled Lindsay into a rehab center in California in January 2007.
"You know, you have to be ready as an individual. It's not just gonna' happen. You have to hit your own bottom," she said.
Since her first stint in rehab, she's returned to treatment several other times and has been busted for other crimes including drunk driving and for instigating a bizarre car chase.
"I never thought it would be this -- the media would be so crazy. I really never thought it would get to this level," Dina said. "It's been really hard on my family, harder than anything."
In January, Lindsay completed her fifth stint in rehab -- this time at the Betty Ford Center.
Article continues below advertisement
Dina said Lindsay's alleged altercation with staffer Dawn Holland has been blown out of proportion and that, she believes, her daughter is finally taking control of her life.
"I really think she was at a maturation level that she now understands what she needs to get from it. And she grasps that."
Dina's media blitz also included a live appearance on Good Morning America on Friday during which she spoke to GMA anchor George Stephanopoulos about Charlie Sheen offering advice to her troubled daughter.
Watch a clip of Dina Lohan on GMA
After dispensing pearls of wisdom to LiLo earlier this week on Dan Patrick's radio show, Sheen gave ABC News advice to pass onto Dina herself, telling her, "It's never too ate to get a fresh start ... quit believing that losing is an option ... embrace what you see in the mirror."
The raspy-voiced Long Island stage mom said she doesn't understand why people draw comparisons between the Two And A Half Men star and her daughter.
Article continues below advertisement
"He's 45-odd years old and Lindsay's 24 and I don't know why they compare him to my daughter," she said. "I just think that Lindsay took his advice, and gave him advice as well," noting her daughter urged Sheen to "Get well."
Dina also called Betty Ford "life changing" for Lindsay.
When GMA asked about Lindsay returning to jail, Dina said: "God willing, she won't go back to jail. I can't talk about the case. It's pending. The media makes it a lot worse than it is."
Dina said she raised her kids to be normal, happy kids, but that living life under a microscope is difficult, and that Lindsay is still "paying for the price" for her 2007 DUI conviction.
Chris Cuomo's entire interview with Dina Lohan airs Friday night on 20/20 at 10 p.m. ET on ABC