Two And A Half Men's Creator: 'If Charlie Sheen Outlives Me, I'm Gonna Be Really Pi**ed'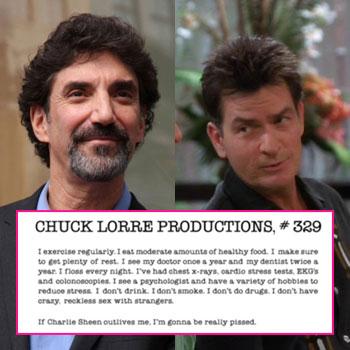 Chuck Lorre, the outspoken creator of Two and a Half Men, 'spoke' out Monday night at the end of his hit CBS show about his troubled star.
As fans of the show know, Lorre always ends the show with a so-called 'vanity card' -- a quick graphic containing Lorre's personal rant that's only on the screen for a few seconds at most.
On Monday, he took issue with his star.
He wrote:
"I exercise regularly. I eat moderate amounts of healthy food. I make sure to get plenty of rest. I see my doctor once a year and my dentist twice a year. I floss every night. I've had chest x-rays, cardio stress tests, EKG's and colonoscopies. I see a psychologist and have a variety of hobbies to reduce stress. I don't drink. I don't smoke. I don't do drugs. I don't have crazy, reckless sex with strangers."
Article continues below advertisement
"If Charlie Sheen outlives me, I'm gonna be really pi**ed."
As RadarOnline.com previously reported, Sheen called into The Dan Patrick Show on Monday, and took a swipe at his bosses, saying he's ready to return to work, but that they won't let him.
Sheen told Patrick he recently returned to the Los Angeles set and was "banging on the stage door", but no one would let him back in.
"The execs said 'You get ready and we'll get ready' ... and I got ready and went back and nobody was there ... I don't know what to tell ya," Sheen told Patrick.