EXCLUSIVE BLOG: Heidi Fleiss Defends Charlie Sheen: He's 'Keeping The Economy Moving'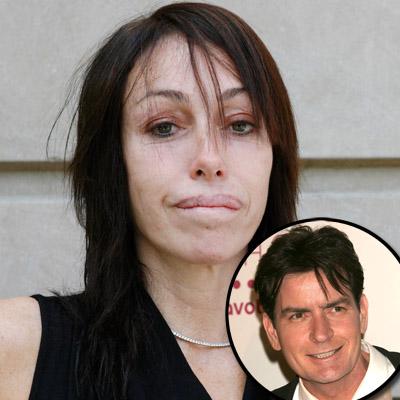 Charlie Sheen may have shocked Hollywood with his out-of-control party boy antics, but one person is coming to his defense -- his former madam Heidi Fleiss.
Here's her exclusive blog for RadarOnline.com:
Look, in my opinion a hooker is somebody to respect, and I hope that Charlie Sheen keeps spending his money on hiring as many women as he wants to satisfy his sexual needs.
Unlike the rest of the world I know him personally, and although I wish things had turned-out differently between us I still actually like the guy.
Article continues below advertisement
Society is screwed-up when it comes to paying for sex and Charlie Sheen is only doing what most men wish they had the resources to do-- pay for sex whenever they feel like it with whomever they want to do it with.
Prostitution is a basic service and at least Charlie Sheen understands this fundamental concept - it's just that society does not like to readily accept this fact.
He is a grown man who can make his own decisions about how he spends his money.
Charlie Sheen is raking in around $2 million per episode of Two And A Half Men and some of this money is going to pay some hooker's electricity bill or whatever ... good luck to them both is what I say - it's keeping the economy moving!
Personally, I cannot understand all the fuss about him being in rehab at home either - who says that is an easy option anyways?
Charlie Sheen's Teeth Are Gold , Says Porn Star Who Partied With Him
Article continues below advertisement
I've been to rehab and to get sober at home is actually a lot tougher than in some strange environment because this is where a lot of illicit activities actually take place.
Nobody knows if he is taking it seriously or not, but it is up to Charlie Sheen to reach that conclusion for himself nobody can make it for him.
I'm sorry for his family as Martin Sheen is a truly lovely guy.
However, all parents can do is to point their children in the right direction because ultimately it is up to them what they do in adulthood and Charlie Sheen is no different from anyone else in that respect it's just that he is a famous actor that's all.
Probably the best scenario for Charlie would be if he could kick the booze and the drugs and just do hookers sober!
Look, I'm not advocating that a healthier lifestyle would not be better for him but it is up to him to reach that conclusion for himself.
He has been functioning at his job for a long time very successfully, so, obviously he does not think that he has a problem with his addictions yet.
People may think that my attitude is warped, but I'm a realist and Charlie Sheen has always loved to party and I for one don't think he should stop either.
Article continues below advertisement
Society might have a problem with Charlie Sheen but I don't - what do they want the guy to do join the priesthood or something ... it's not going to happen so I say 'party on Charlie' it's your life and you are entitled to live it your way too!
EXCLUSIVE: Charlie Sheen Checks Into Rehab
Heidi Fleiss is about to start filming a news series for Animal Planet about her beloved parrots while her dog grooming salon and hotel First Pedigree has now opened its doors in Las Vegas. If you want to ask her any pet or animal related questions you can e-mail her at Heidiwear@yahoo.com.