PHOTOS & VIDEO: Lady Gaga Dresses As 'Human Condom' To Inspire Safe Sex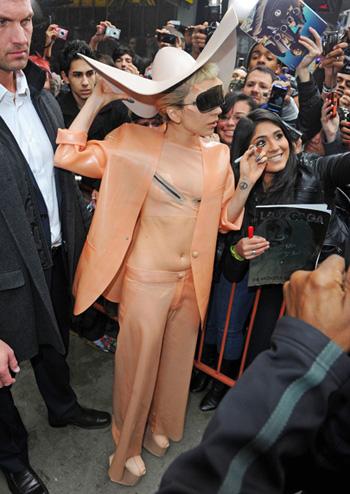 Lady Gaga appeared on Good Morning America Thursday, where she donned a latex outfit to inspire safe sex in conjunction with her work on MAC's Viva Glam Campaign, which aims to promote awareness of, and fight, HIV and AIDS.
"I like themes," the 24-year-old New Yorker said. "Today, I wanted to be representative of what we women and people all over the world need to be concerned about ... which is HIV."
Article continues below advertisement
The Grammy-winner, the centerpiece of MAC's Viva Glam Campaign, said she want to raise $50 million "for AIDS, to save lives worldwide" after drawing in more than $34 million for the cause last year.
The Poker Face singer said she wants to get people to discuss HIV and AIDS with their children, in an effort to promote awareness. She said her mother taught her many things at a young age which she is grateful for.
"It is shame and stigma around those things" that discourages people from learning more about safe sex, Gaga said.
The Telephone singer said HIV and AIDS is 100 percent preventable, but 0 percent curable.
Watch the video on RadarOnline.com
Her new album Born This Way hits stores May 23.