Exclusive
PHOTOS: Did Lady Gaga Copy Kylie Minogue's Album Cover? You Be The Judge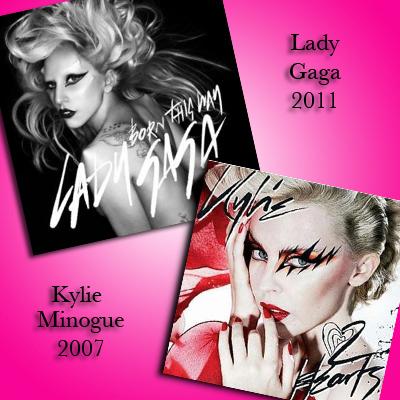 They say 'imitation is the sincerest form of flattery' -- but Kylie Minogue may not agree.
Case in point -- Lady Gaga's latest artwork for her new album, Born This Way, bears a striking resemblance to the Australian's singer's top-selling 2 Hearts cover.
You be the judge.
From the side-on pose to the vampy makeup and even the identical font, Gaga's album cover appears to be almost an exact replica of the 'Spinning Around' songstress' creation more than from four years ago.
Article continues below advertisement
With her outrageous style and wacky performances, Lady Gaga claims to be one-of-a-kind are being questioned.
And it's not the first time Gaga has been accused of being a copycat.
Just last year, Gaga was branded an image thief after critics claimed 'Alejandro' was a 'La Isla Bonita' rip off, while a number of her barely there outfits have also been compared to the queen of pop, Madonna.
She was ribbed for ripping off the band 'Ace Of Base' and Gwen Stefani too.