ON YOUR RADAR: The Most Outrageous Outfits Of The Year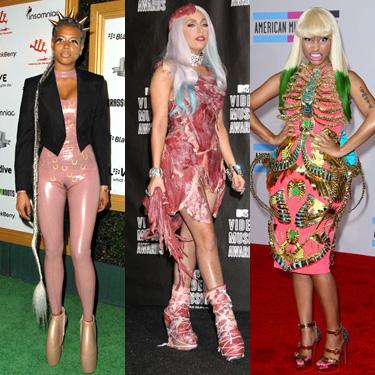 From Madonna's Gautier cone corset on the Blonde Ambition tour to Jennifer Lopez's daringly sexy green Versace dress at the 2000 Grammy Awards, celebs most outrageous outfits go down in fashion history.
As part of RadarOnline.com's special "On Your Radar" feature, we are bringing you photos of all of the most shocking outfits of the year -- looks these stars will never be able to live down!
Without a question, Lady Gaga was the most talked about fashionista of 2010. Every time the sassy singer hopped on a plane, performed onstage or hit the red carpet, she upped the shock factor to the max. But when Gaga showed up to the MTV Video Music Awards, covered in raw meat from head to heel, she spawned a media frenzy. See Lady Gaga's meaty a la mode here.
Article continues below advertisement
There is never a lack of scandalous style in Hollywood, but what happens when underage starlets take sexy a little too far? From Taylor Momsen's Pretty Reckless transformation to Miley Cyrus' Can't be Tamed makeover, 2010 was definitely the year of too-sexy-too-young fashion. See Miley's shocking look at the Much Music Awards here and Taylor's Gossip-worthy nearly naked ensemble here.
Ke$ha may have TiK ToK'ed her way up the Billboard charts, but the bodacious blonde has a thing or two to learn when it comes to getting dressed for a red carpet. Instead of consulting with the top celeb designers like her peers, the wild child headed to Home Depot and picked up some Hefty trash bags for her MTV Video Music Awards dress. See her trashy look here.
While Blake Lively scored slots on every Best Dressed list in the world, her Gossip Girl costar Leighton Meester wasn't so fortunate. Though the brunette babe sported several frightful fashions, she had her ultimate "what was she thinking?" moment when she hit a Harry Winston event in a totally sheer Marchesa jumpsuit. See Leighton's fashion flop here.
After years in hiding, Cher attempted Turn Back Time and resurrect her acting career. The iconic superstar promoted her blockbuster flop Burlesque across the globe, showing off her still svelte figure in one fashion disaster after the next. Her most memorable miss a la mode was at the MTV Video Music Awards in September, when she attempted to duplicate her 1989 Turn Back Time video look. See Cher's fashion flop here.
Article continues below advertisement
And when it comes to crazy clothes, Britney Spears never fails to disappoint! While Brit Brit may be under conservatorship in regards to her personal life, the judge should think about extending the legal control to her wardrobe. While her short-shorts, high knee socks and wife beater tanks were her 2010 Target uniform, the Billboard chart-topper saved her most outrageous look for the Grammy Awards in January, wearing a Dolce & Gabbana body suit under a sheer lace dress. See Britney's style blunder here.