AUDIO: New Song 'I Wanna Shoot Lady Gaga' Sure To Trigger Controversy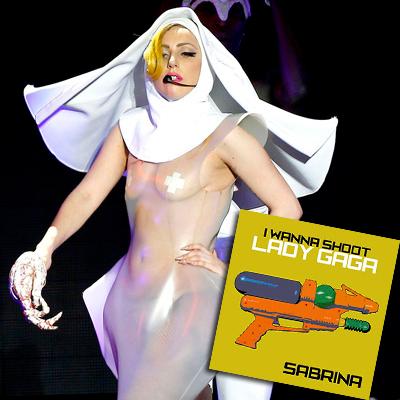 A new song -- released this week online -- has one of the world's most popular and outrageous singers in its crosshairs.
Listen to 'I Wanna Shoot Lady Gaga'
It's called 'I Wanna Shoot Lady Gaga', and Interscope artist Sabrina -- the woman behind the controversial song -- explains the motivation behind her new tune.
In a blog written for sohh.com, under the headline, "Lady Gaga Represents Everything That's Wrong With The Core Of Our Society", Sabrina writes:
Article continues below advertisement
"My song 'I Wanna Shoot Lady Gaga' is not about shooting Stefani Germanotta, the lonely, insecure girl better known to the world as her alter ego, Lady Gaga. The song is about killing off the gimmick, the character of Lady Gaga. It's not meant to be sadistic or evil, I mean, just check out the song's artwork. We used a squirt gun - nothing violent, just metaphorical. I want to kill everything she represents and stands for.
"I read in Forbes that Lady Gaga is one of the most powerful and influential people in the world...that thought turns my stomach. To think about how someone who is so morally bankrupt, who lacks integrity and gives slutty a whole new meaning, could hold such a position of influence is sickening."
Sabrina goes on to write: "Lady Gaga represents everything that is wrong with the core of our society. She's not a lady, she's a tramp. People see her as such a hero, especially the gay community; they celebrate her. She stands up there in her flesh suit and cries big old elephant tears and thanks her dear fans for being so brave, but what they don't realize is that everything she does is calculated. I feel like she uses them.
Article continues below advertisement
"I think 2011 is going to break her down. People are tired of her now. The gimmick is old and boring; she came out with such a bang that there is not much else she can do to hold our attention. Her strength has become her weakness. I think she'll start feeling herself being weeded out and she'll fall off as fast as she came in."
"So yes, I wanna shoot Lady Gaga. I'm telling you now, she needs to keep an eye out for me. I'll be walking up on the red carpet with a lil' pocket squirt gun filled with holy water and I'm gonna soak her from head to toe. Indeed."
The article notes that Interscope's Sabrina is known for working with the Nappy Roots, Jayo Felony, Knoc'turnal, and other urban artists. She also performed the lead single off the Last Day of Summer film which starred Twilight's Nikki Reed.
RadarOnline.com is reaching out to Lady Gaga's rep for comment.
RELATED STORIES:
Lady Gaga Named Most Charitable Celeb Of 2010
Lady Gaga Gets Groped By Fem Fan