PHOTOS: Bikinis! Oscar Winners Stripped Down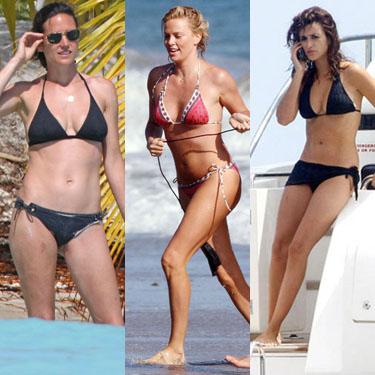 These stars have more going on for them, than just looking fabulously fierce in their skimpy swimsuits-they are also Academy Award winning actresses! In honor of the 83rd Academy Awards on Sunday, RadarOnline.com has photos of the sexiest stars to ever win the Oscar, stripped down into their barely-there bikinis. Click the next sentence to see sexy bikini babes who have won Oscars.
Article continues below advertisement
Angelina Jolie is one of the biggest sex symbols in the world. With her flawless figure and fabulous face, Brad Pitt's sexy baby-mamma is not only hot, but she can act too. After winning a Golden Globe for Gia in 1998, Angie scored an Academy Award in 1999 for Best Supporting Actress for Girl, Interrupted.
Click Here To See Angelina Jolie Stripped Down And Sexy
Gwyneth Paltrow has more in common with Angelina, than a romance with Brad Pitt! The scorching hot blonde scored an Oscar in 1998, for her role in Shakespeare in Love, and also has one of the most perfect bikini bods on the beach.
Click Here To See Gwyneth Paltrow's Gorgeous Bikini Body
Charlize Theron is a model-turned-bigscreen babe, who was the first African star to win an Academy Award. The blonde beauty took home the top honors in 2003, playing down her beauty in the disturbing serial killer flick Monster.
Click Here To See Charlize Theron Bare All In Her Bikini
And Halle Berry may be known for her killer smile and crazily sculpted legs, but the single mom is also regarded for being an Academy Award winning star. Halle brought home the gold in 2001 for her role in Monster's Ball.
Article continues below advertisement