PHOTOS: The 20 Hottest Bikini Bodies Under 25!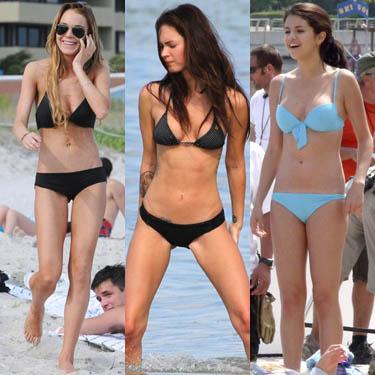 They're young, rich and famous -- yes, life's a beach for these sexy stars under 25.
While anyone can look good on the red carpet with the help of a designer clothes and a hair and makeup team, only a lucky few can look just as smoking hot when they strip down into their skimpy swimsuits.
RadarOnline.com has pics of the hottest bikini babes on the beach under 25-years-old in this special -- and sexy -- photo feature. Click the next sentence to see the hottest bikini babes under 25.
Article continues below advertisement
Click Here To See Megan's Foxy Bod
Blake Lively is quickly transforming from a television sizzler to a bigscreen bombshell. The beautiful bombshell definitely stirs up Gossip when she removes her designer duds and reveals her perfect-10 bikini body.
Click Here To See Blake Lively Amazing Assets In Her Skimpy Bikini
Vanessa Hudgens is quickly outgrowing her Disney star reputation. The 22-year-old star, who has already survived a naked photo scandal, has one of the hottest bodies on the beach-and isn't afraid to show it off in barely-there bikinis.