PHOTO: Double Darths -- Max Page Meets James Earl Jones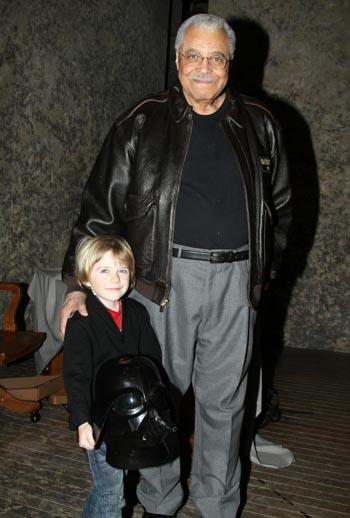 All that was missing were the light sabers Monday night in New York, when the legendary voice of Darth Vader, James Earl Jones, met up with the character's younger incarnation, Max Page, and RadarOnline.com has the pic for you.
Max is the 6-year-old boy who's the talk of the country after starring as a small Darth Vader in a Super Bowl commercial (that's since gone viral, to the tune of more than 20 million YouTube hits) in which he turned on a Volkswagen Passat using "The Force."
Article continues below advertisement
As RadarOnline.com previously reported, Max and his mother Jennifer appeared on the Today Show Monday in a segment in which we learned that the boy was born with a congenital heart defect.
"He's an inspiration," Jennifer said. "He had his first operation when he was 3-months-old and now has a pacemaker."
Fun Vader fact: English strongman David Prowse, who physically played Vader in the original three films (as a complement to Jones' deep voice), was banned from attending Star Wars conventions and the like, as he said on his website last summer, "The only thing I've been told is I've burnt too many bridges between Lucasfilm and myself."