Lohan's Friend Confirms Sobriety: 'The Only Thing Lindsay Was Drinking Was Tea!'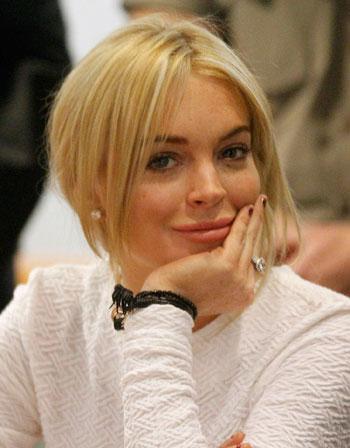 Lindsay Lohan's British socialite friend Lady Victoria Hervey has told RadarOnline.com: Lindsay is completely sober and focused on working.
While observers scratch their heads after images surfaced of Li-Lo's early morning visit to Teddy's Nightclub at The Roosevelt Hotel to meet her galpal Samantha Ronson - stunning Hervey has quickly jumped-in to defend her pal.
And she believes that Lohan will prove her critics wrong by getting both her career and life back on track after her latest legal run-in - the actress was charged with felony grand theft for allegedly stealing a $2,500 necklace from a jewelry store in Venice Beach, CA. on January 22.
Article continues below advertisement
Hervey told RadarOnline.com: "The only thing Lindsay was drinking was tea with honey!
"I was with her at the Chateau Marmont last night - we had dinner and she was in great spirits and completely sober.
"After we left, she went to the Roosevelt Hotel to see Samantha and she left her car because she did not want any problems with the paparazzi - they are constantly following her right now.
"She even texted me to say that she was safe back at home later on and the truth is that she is doing well right now.
"She is focused on her career and has a few exciting film meetings in the pipeline which she is very optimistic about.
PHOTO: Lindsay Rocks A White Bikini
"Her true friends know that Lindsay is totally sober just now and despite of everything we are not worried for her."
Hervey's positive comments were echoed by Lohan's mom Dina who has gone on a PR offensive backing her daughter who is currently walking a legal tight-rope.
Article continues below advertisement
PHOTO: Lindsay Topless In Manhattan
Dina Lohan appeared on ABC News on Friday, admitting that Lindsay faces "a lifelong struggle with addiction."
"I believe that Lindsay doesn't drink anymore, and I think it's gonna be a lifelong struggle with addiction. But I think she's gonna be okay," Dina Lohan told Chris Cuomo in an exclusive taped interview scheduled to air on Friday night's 20/20.
"She's a young girl struggling. You know, she's not perfect... She's learning as she goes, but she's learning under a microscope, so I can't even imagine how that is," she added.
Lohan is still undergoing random drug and alcohol tests and if she fails any of these, then she will be automatically jailed according to the latest stipulations laid down by Judge Keith Schwartz.
In January, Lohan completed her fifth stint in rehab -- this time at the Betty Ford Center while her next hearing is scheduled for February 23, 2011.
RELATED STORIES:
EXCLUSIVE: Another Bad Day For Lindsay Lohan, ATM Won't Give Her Money