Lindsay Lohan Tweets 'I Wouldn't Risk Probation'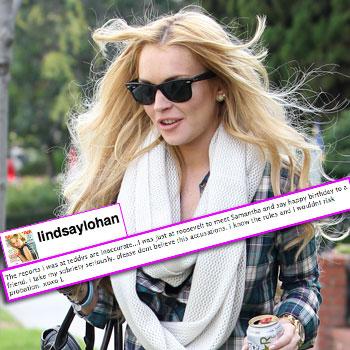 Lindsay Lohan is firing back at reports that she could be falling off the wagon after she was spotted at a Los Angeles nightclub Thursday night.
The recently-rehabbed actress took to her Twitter to set the record straight just minutes ago: "The reports i was at teddys are inaccurate...I was just at roosevelt to meet Samantha and say happy birthday to a friend."
The starlet's partying days are over, she claims.
Article continues below advertisement
"i take my sobriety seriously. please dont believe this accusations. i know the rules and i wouldnt risk probation. xoxo L"
Reports surfaced today that Lohan was spotted driving her rented black Porsche to Teddy's nightclub at the popular star-studded hotel at around 1:45 am before leaving as a passenger in Ronson's black BMW around 45 minutes later.
PHOTO: Lindsay Rocks A White Bikini
RELATED STORIES: