Lindsay Lohan Spends The Night With Ex-Girlfriend Samantha Ronson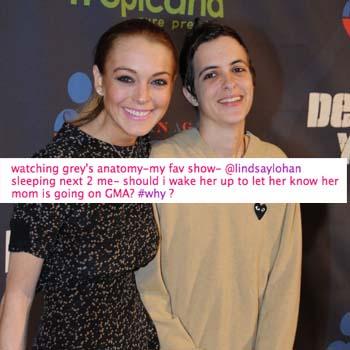 Mystery still surrounds Lindsay Lohan's early morning impromptu visit to the Roosevelt Hotel in Hollywood after the troubled actress left in galpal Samantha Ronson's car, RadarOnline.com can reveal.
Lohan was spotted driving her rented black Porsche to Teddy's nightclub at the popular star-studded hotel at around 1:45 am before leaving as a passenger in Ronson's black BMW around 45 minutes later.
Eyewitnesses claimed that Lohan looked 'nervous and wired' as she ran into the hotel to find Ronson and many observers are wondering why she abandoned her Porsche and did not drive herself home.
Article continues below advertisement
The incident will no doubt worry her handlers as the actress is desperately trying to stay out of trouble after she was recently charged with felony grand theft for allegedly stealing a $2,500 necklace from a jewelry store in Venice Beach, CA. on January 22.
Ironically, her mom Dina Lohan today went on a PR offensive Friday defending her daughter on ABC News admitting though that Lindsay faces "a lifelong struggle with addiction."
"I believe that Lindsay doesn't drink anymore, and I think it's gonna be a lifelong struggle with addiction. But I think she's gonna be okay," Dina Lohan told Chris Cuomo in an exclusive taped interview scheduled to air on Friday night's 20/20.
"She's a young girl struggling. You know, she's not perfect... She's learning as she goes, but she's learning under a microscope, so I can't even imagine how that is," she added.
Article continues below advertisement
Lohan is still undergoing random drug and alcohol tests and if she fails any of these, she will be automatically jailed according to the latest stipulations laid down by Judge Keith Schwartz.
In January, Lohan completed her fifth stint in rehab -- this time at the Betty Ford Center while her next hearing is scheduled for February 23, 2011.
A source at the Roosevelt Hotel confirmed that Lohan's rented Porsche remained at the hotel after she left with Ronson.
The source said: "The car was parked for her and she will have to pay $30 and hand-over her ticket when she comes to pick it up today – we make these provisions for all our guests.
PHOTO: Lindsay Rocks A White Bikini
"I honestly did not know that Lindsay went into Teddy's and if she did she did not stay very long."
It's understood that alcohol can be detected in the body eight hours after they are consumed if a person is tested for them the following day. Drugs can be detected in the body for days following comsumption.
Article continues below advertisement
After their late night at Teddy's, both Ronson and Lohan drove back to their neighboring Venice Beach townhouses that the pair are currently renting.
PHOTO: Lindsay Topless In Manhattan
Once home, Ronson Tweeted about sharing her bed with a sleeping Lohan:
watching grey's anatomy-my fav show- @lindsaylohan sleeping next 2 me- should i wake her up to let her know her mom is going on GMA? #why ? @JennyJohnsonHi5 or her hand in warm water? oh wait- i don't want her to wet the bed.