Exclusive
EXCLUSIVE PHOTOS: Woman Suing Dr. Phil For Dog Bite Shows Her Injuries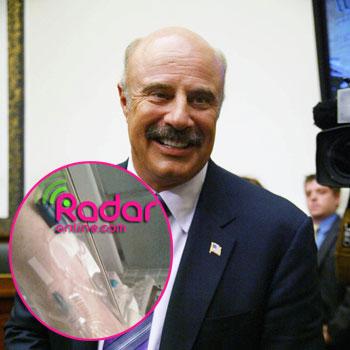 Janet Harris, the former best friend of Dr. Phil and Robin McGraw, who's now suing the TV couple after their dog bit her, is sharing images of her injury, and RadarOnline.com has the exclusive photos.
Harris says in her lawsuit that the dog bite injury caused a serious infection that would have been fatal if she had not been placed on antibiotics within 72 hours.
These exclusive photos do not show severe bite marks or signs of being mauled. They do show a puncture wound in Harris' hand, a puncture that her lawyers contend has caused significant damage after causing cellulitis and an infectious disease.
Article continues below advertisement
RadarOnline.com broke the exclusive story about the lawsuit pitting former best friends against each other. Harris
was frequently featured on the Dr. Phil talk show as a skin care specialist and became a close confidant of the McGraws. The lawsuit contents that Harris traveled with the McGraws for business and pleasure, spent holidays with them and more.
But all of that changed when Harris visited the McGraw's Beverly Hills home in late 2009 and Maggie, their Korean Jindo, attacked Harris "without provocation and warning," according to the complaint filed February 2. Harris states the dog bit her right hand and arm so hard she bled.
According to the complaint, Robin offered to take Harris to the hospital, but Dr. Phil instructed his wife not to because it would create "unnecessary" bad press and he wanted to handle it privately.
So in lieu seeking medical treatment at a hospital, Harris was prescribed antibiotics by a physician through a nurse friend, but the next day her arm was swollen, the documents state.
The photos obtained exclusively by RadarOnline.com clearly show a puncture wound. It does not look big, but was apparently deep enough to cause a severe infection.
Article continues below advertisement
The lawsuit claims after getting a Tetanus shot, Harris was forced to take IV antibiotics and had to see an infectious disease specialist who diagnosed her with pastuerella multocida -- a disease caused by an animal bite.
The photos show Harris on an IV drip. She says she was on that for seven-days -- and after a second infection she had to endure yet another round of IV treatment, according to the lawsuit.
And Harris' health problems didn't end there. She claims to have developed hypersensitivity to the prescription antibiotics and permanent
side effects, including nearly total hearing loss in her right ear, sensitivity to light, and a right hand tremor. The lawsuit further states that her medical conditions hindered her ability to work and she was evicted and forced to close her Beverly Hills clinic.
Article continues below advertisement