EXCLUSIVE PHOTOS & INTERVIEW: New York Housewife Jill Zarin Launches Shapewear Line - Ramona A No-Show!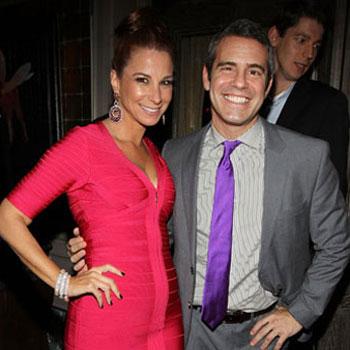 One of New York fashion week's hottest tickets was Real Housewives Of New York star Jill Zarin's launch for her sexy new shapewear line - Skweez Couture.
RadarOnline.com spoke exclusively to Zarin and obtained exclusive photos, party details and the inside scoop on why fellow co-star Ramona was a no-show!
"If I can help women feel sexy and confident, I am happy," Zarin told RadarOnline.com, in an exclusive interview.
Article continues below advertisement
"We can all use a little help and I hope my shapewear helps women feel more sexy and confident in their clothes."
Housewives LuAnn de Lesseps, Cindy Barshop, Alex McCord, Sonja Morga, and Bravo executive Andy Cohen were all there to support Jill on her big night.
However, surprisingly Ramona Singer was absent, shocking multiple party-goers who revealed the no-show to RadarOnline.com.
What's more, Ramona not only missed the event but was encouraging the other Housewives to leave the party!
"She was texting people from a party uptown asking friends to leave Jill's launch and come uptown and meet her," said our source.
Much ado about nothing, according to Ramona, who said she was supporting her daughter at another event.
"I was at a Zang Toi event with my daughter Avery where she was walking in the show and I was the only housewife there to support her, so I couldn't be at Jill's event.
"I had previous business commitments for Ramona Pinot Grigio and TrueFaithJewelry.com which I told Jill about the night before."
Article continues below advertisement
Despite Ramona's apparent attempt to lure some guests uptown, the Housewives remained and Jill's husband Bobby, daughter Allyson, sister and radio show host Lisa Wexler, Johnny Weir and Todd English were all there to support.
Meet The New Housewives of Miami!
The atmosphere was sexy with rose petals strewn across the room and the smell of flowers in the air.
Models were positioned around the room wearing corsets, lace tights and body suits showing off the full features of the line.