Exclusive
EXCLUSIVE: Michael Lohan Provides CD To Lindsay In Court With Hopes Of Keeping Her Out Of Jail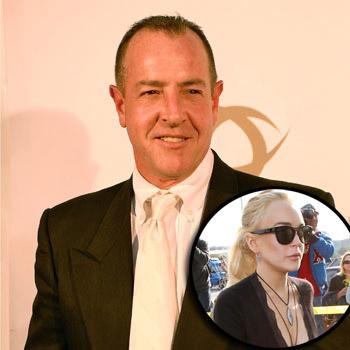 Like any good father would do, Michael Lohan is fighting to keep his daughter Lindsay out of jail.
In an exclusive interview, Michael tells RadarOnline.com that a CD he gave to Lindsay in court just moments ago is "evidence that proves Lindsay gets jewelry all the time. Tens of thousands of dollars worth, but she returns it or I/we buy what she wants."
Lindsay was in court Wednesday morning before L.A. Superior Court Judge Keith Schwartz for an important hearing to determine if her felony theft case can be settled with a plea deal or by some other resolution.
Article continues below advertisement
A plea deal was offered to the actress by Deputy D.A. Danette Meyers and both Lindsay and her lawyer, Shawn Holley will decide at a later date if she will accept the deal or take her chances at trial.
As RadarOnline.com previously reported, Los Angeles Superior Court Judge Keith Schwartz laid down the law in court by telling Lindsay that even if she accepts a plea deal: "You WILL be going to jail, period!"
"I've never met you before the last court appearance... I treat everybody the same. I don't care that you're Lindsay Lohan," the judge told the troubled actress.
In addition, Judge Schwartz wants a psychological evaluation for the Mean Girls star to help him determine what particular sentence is appropriate and told the actress she needs to get a reliable, trustworthy sponsor -- someone not related to her - to assist her with "whatever stress or issues she has" to keep her away from her substance abuse issues.
Article continues below advertisement
The judge also explained to Lindsay that if she pleads guilty or no contest, it will be an automatic admission she violated her probation.

If Lindsay doesn't accept a plea, she'll stand trial and if she's found guilty she could get one year in state prison.
Michael's reaction following Judge Schwartz's missive that if Lindsay pleads to the charge that she will be going to jail, "she shouldn't take the deal. Hell no!"