EXCLUSIVE: Michael Douglas Escapes With Wife & Kids For The Weekend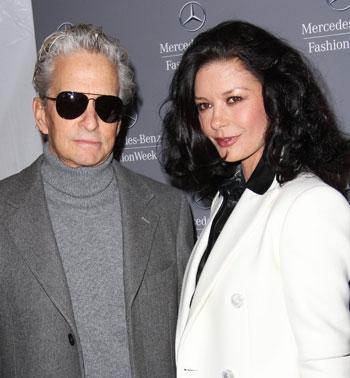 Michael Douglas has made shocking strides in his path toward wellness and is celebrating by taking a long weekend away with his wife, Catherine Zeta-Jones, and their two children.
"He's gone away for a long weekend with his wife and kids," his rep, Alan Burry, told RadarOnline.com in an exclusive interview.
"He is doing fine, it takes time but he is one of the lucky ones. He feels better but it takes awhile."
Article continues below advertisement
The couple was last photographed on Monday night celebrating Valentine's Day at a posh New York eatery and then attending the Michael Kors Fashion Show on Wednesday, but with the spotlight on Douglas' health, the family feels they wanted an escape his rep said.
RadarOnline.com caught the 66-year-old star on vacation with his family just last December in which the Wall Street star was photographed in a wheelchair-like scooter.
Since then, Douglas was put on an aggressive eating campaign to help the Oscar-winner rebuild the energy that was sadly zapped from his body after eight weeks of chemotherapy and radiation treatments.
"He can't go back to making full movies yet but he has plans to be working in the summer," Burry said.
Douglas has been ferociously battling the fight of his life after announcing in August, 2010 that he was diagnosed with stage IV throat cancer.