EXCLUSIVE: Jesse James' Ex-Wife To Be Reunited With Daughter Following Arrest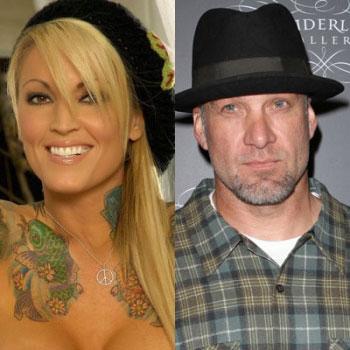 Janine Lindemulder is expecting to be reunited with her daughter Sunny James in Texas Tuesday after she was arrested for allegedly making threatening calls to Jesse James, RadarOnline.com can reveal.
The former porn star – who is involved in a bitter custody battle with her ex-husband – was sent to Hays County Jail in Austin over the weekend after she was arrested for three outstanding Class B Harassment warrants.
Article continues below advertisement
Lindemulder claimed James refused to allow her to see the 7-year-old during a scheduled visit and that the motorcycle mogul 'set her up' with the police after she had traveled for three days to spend time with their daughter.
A source told RadarOnline.com: "They are in the process of setting-up a visitation between Janine and Sunny today.
"This was just another example of 'parental alienation' by Jesse James when he refused to allow Janine to see her daughter after traveling so far – which mother would not make a few frantic phone calls in such a case?
"They will both be back in court in California in May before Judge David Belz for their 730 Evaluation findings.
"Janine is hoping that Judge Belz will increase her visitation rights and modify the current custody order.
"Jesse James has continually been unreasonable in the past and if he continues not to follow court mandated orders then he will be in serious trouble."
Lindemulder's lawyer Richard Masson posted $840 in bail to get his client released from jail and she has been staying in a motel in Austin waiting for the green light to see her daughter whom she has not seen since December 28, 2010.
Article continues below advertisement
The feuding couple currently has joint legal custody of Sunny although she lives with her father at his new home just outside Austin.
Despite the fact that she was jailed over the weekend, Lindemulder was in an up-beat mood when she spoke with RadarOnline.com Tuesday.
She revealed: "The cops treated me pretty well and I don't think that they like Jesse all that much in these parts anyways.