Exclusive
EXCLUSIVE INTERVIEW: Lindsay's Management Team To Blame For Controversy In Her Life, Says Michael Lohan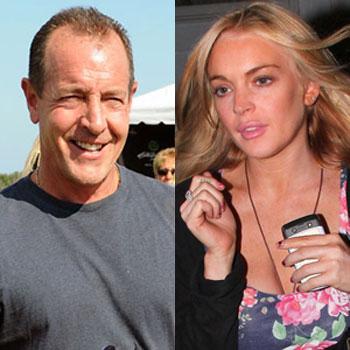 Lindsay Lohan's management team of Lou Taylor and Larry Rudolph are to blame for much of the controversy in her life, Michael Lohan charged in an exclusive interview with RadarOnline.com.
Firing an unexpected blast at the twosome who have helped Britney Spears, Michael told us: "A lot of the controversy in Lindsay's life wouldn't be there if Lou Taylor and Larry Rudolph weren't part of the equation.
Article continues below advertisement
"They are both one-hit wonders with Britney Spears, and they are not going to do the same to my daughter."
Those fighting words come as RadarOnline.com exclusively reported Friday that the prosecutor in Lindsay's case will not accept a plea bargain unless it includes jail time. Michael insists his daughter is innocent and can prove it.
"As Lindsay's father, I truly believe that there is no reason for Lindsay to go to jail -- especially at a time when she has literally turned her life around and is on a great path," Michael told us.
"Lindsay has evidence... I know directly from Lindsay that she did not steal the necklace."
Lindsay is facing felony grand theft charges for allegedly stealing a $2,500 necklace from a Venice, California boutique.
"There is far too much evidence in Lindsay's favor to let this happen," Michael told RadarOnline.com. Lindsay's camp has said that her story she borrowed the necklace will be supported by the people who accompanied her to the store.
Article continues below advertisement
Taylor and Rudolph did not return our calls for comment on Michael's remarks about them.
Michael believes the judges in Lindsay's two cases – the grand theft and the DUI – will be fair. "Lindsay has two very fair judges, and they are going to see what the truth is: Judge Schwartz and Judge Elden S. Fox are both very fair," he told RadarOnline.com.
As RadarOnline.com previously reported, Lindsay, 24, pleaded not guilty to the charge during her arraignment Wednesday, where Los Angeles Superior Court Judge Keith Schwartz told the Mean Girls star: "You're no different than anyone else. So please, don't push your luck."