Exclusive
EXCLUSIVE INTERVIEW: Jesse James' Ex: I Don't Want Our Daughter Going To His Las Vegas Wedding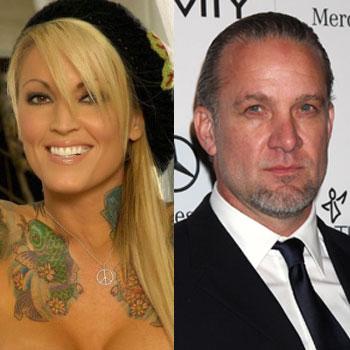 Jesse James ex wife Janine Lindemulder does not want their daughter Sunny to travel to Las Vegas to attend his wedding to Kat Von D, she tells RadarOnline.com in an exclusive interview.
Reports indicate that the newly engaged tattoo-covered couple are set to exchange vows in Sin City soon.
But Lindemulder, who is currently in Austin, Texas, trying to see her daughter, does not want Sunny to travel for the ceremony.
Article continues below advertisement
She told RadarOnline.com: "They can get married whenever or wherever they want but they cannot take Sunny out of Texas or California without special permission from the courts.
"I'm supposed to be getting a supervised visit with my daughter this weekend but we will just have to wait and see what happens with that.
"I actually do not mind (the supervised visit) because that way Jesse cannot pull any stunts or anything like that.
"I'm here in Texas so that I can spend time with Sunny and hopefully that will happen because I really miss her."
Jesse and Kat's wedding will be a small event with a few family and friends attending, sources tell RadarOnline.com.
James is locked in a bitter custody battle with Lindemulder over Sunny and has physical custody of their daughter although they share joint legal custody of her.
He would need special permission from the court to move Sunny from Texas, where they currently reside.
Article continues below advertisement
And it's unlikely that either Lindemulder or her lawyer Richard Masson would accommodate this request because their relationship is so bad.
Jesse had his ex wife arrested last weekend. She was sent to Hays County Jail in Austin last weekend following her arrest for three outstanding Class B Harassment warrants after James told local police that she was making threatening calls to him.
Lindemulder claimed James refused to allow her to see the 7-year-old during a scheduled visit and that the motorcycle mogul 'set her up' with the police after she had traveled for three days to spend time with their daughter.