EXCLUSIVE INTERVIEW: Former Husband Of Woman Killed By Pirates 'In Total Shock'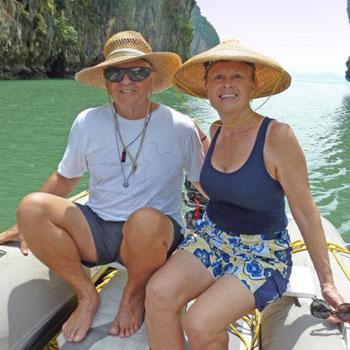 The former husband of Jean Adam -- one of four people killed by pirates off the coast of Somalia -- has exclusively told RadarOnline.com: "We are in total shock at the moment."
Officials announced today Tuesday that Jean and her second husband Adam -- both of Marina Del Rey, California -- as well as Phyllis Macay and Bob Riggle were killed by pirates who had hijacked them off the coast of Somalia.
The Adam's yacht, the Quest, was being tracked by a U.S. Navy warship, but the navy was unable to prevent their killings.
Article continues below advertisement
Jean's former husband Bill Savage told us: "We are in total shock at the moment. We were told by the authorities earlier today before it was announced on the news.
"At the moment, our concern are for the children that are left behind. We have no other comments to make until more information has been gathered."
Details are still coming in about the incident that led to the murder of the four Americans after a dozen pirates stormed their yacht last Friday; several of the captors were killed in the rescue mission also.
Scott Adam, in his mid-60s, had been an associate producer in Hollywood when he turned in a spiritual direction and enrolled in the seminary a decade ago while his wife was a retired dentist.
On this journey, a Washington couple named Phyllis Mackay and Bob Riggle joined them aboard their yacht.
The four were part of an international yacht race called Blue Water Rally, but for some reason left the course somewhere between India and Oman.
Article continues below advertisement
The Adams are part of the Del Rey Yacht Club in Marina del Rey, and the club's members were also left devastated by the tragic news.
Yacht club member and friend of the Adam's Earnest Barker is still baffled about why their yacht traveled into the pirate-infested waters off the coast of Somalia in the first place.
He told RadarOnline.com: "We are all devastated. They were a lovely and peaceful couple.
"But Scott was a very experienced and professional sailor, and everyone wants to know why he sailed into these waters.
"The authorities must be looking for answers from people taking part in the Blue Water Rally because they must have been the last people in contact with them.
"We last saw then around December time, and they still have a power boat moored here at the Marina.
"They would stay on their yacht when it was moored here and they used it as a base to visit family in Orange County.
Article continues below advertisement
"Both Scott and Jean lived for sailing and the church. I'm not angry with the Navy because they probably had no alternative given the circumstances.
"I cannot believe that these so called 'pirates' can get away with this and that they can hijack any vessel bearing the American flag.
"Hopefully, this will be the last of this kind of incident as America and other countries really crackdown on these pirates all around the world.
"Scott and Jean will be missed they were lovely people who used to enjoy giving seminars at the club about sailing and their travels – this is a sad day for our club."
Since 2004, the Adams lived on their yacht in Marina Del Rey for about half the year, and the rest of the year they sailed around the world, often distributing Bibles in remote parts of the Fiji Islands, Alaska, New Zealand, Central America and French Polynesia, Johnston said.
Article continues below advertisement
Scott and Jane Adam documented their maritime missionary work on their website, S/V Quest Adventure Log.
Last week, a Somali pirate was sentenced to 33 years in prison by a New York court for his role in the 2009 hijacking of the Maersk Alabama. There, the ship's captain was freed when navy sharpshooters killed two pirates.
There are currently 660 sailors being held captive in Somalia, but none of them are American.