Exclusive
EXCLUSIVE: Charlie Sheen Leaves On Tropical Vacation With Porn Star, His Wife & New Woman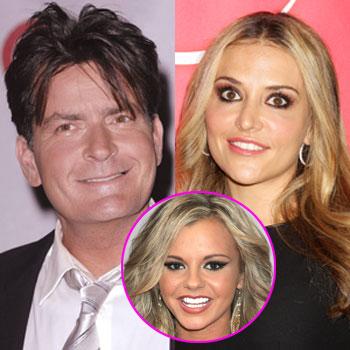 Two and a Half Men star Charlie Sheen is leaving on a tropical vacation Wednesday, taking his wife, his live-in porn star girlfriend and another woman, RadarOnline.com has learned exclusively.
We broke the story early Wednesday that Sheen's soon-to-be-ex wife Brooke Mueller moved back into Sheen's multi-million dollar mansion during the weekend. Also living with Mueller and Sheen are porn star Bree Olson and
Article continues below advertisement
Natalie Kenly.
Now RadarOnline.com has learned Sheen and his "roommates" were leaving Los Angeles on Wednesday to vacation on a private tropical island. All of this is occurring as Sheen is supposed to be in rehab at home as his hit show is shut down.
"Charlie is back to his old self -- and that's not a good thing," a source close to the situation told RadarOnline.com exclusively. "So much for rehab at home. He took off with the girls on Wednesday."
The source also says that while Kenly has been described as a "nanny" she is not -- and fits into Charlie's lifestyle.
"Charlie talked about building a porn family and now he's got these three women all living with him and taking off on vacation with him."
Sheen's show was shut down after he went on a cocaine-smoking bender and ended up in a hospital for the second time in several months. He refused to go in-patient for rehab and instead said he would rehab at home.
Article continues below advertisement