Exclusive
EXCLUSIVE: Charlie Sheen Buys Brooke Mueller $8 Million Mansion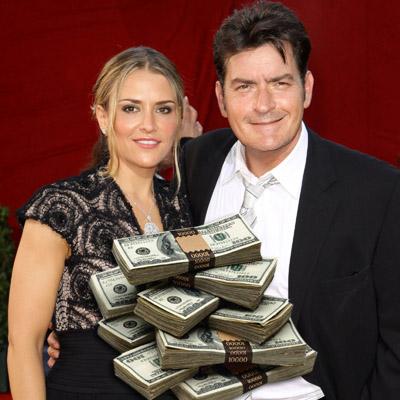 Charlie Sheen has bought his estranged wife, Brooke Mueller, an $8 million mansion within his swanky, ultra-exclusive gated community, RadarOnline.com has exclusively learned.
"Charlie bought Brooke a nine bedroom, 10,000 square foot mansion in Mullholland Estates, where he also lives," a source close to the troubled actor told RadarOnline.com. "The house is amazing, Brooke absolutely loves it. She wanted enough space and privacy for her kids."
Article continues below advertisement
As RadarOnline.com previously reported Mueller is currently shacking up with Sheen at his house, along with porn star Bree Olson and his new girlfriend Natalie Kenly, but the source says it's just a temporary measure until Brooke moves into her new home.
"She will be moving into the new house in a few weeks," the source said. "She will be staying with Charlie until the new house is ready. The twins are also living at their dad's house right now. Brooke is telling people she is only friends with Charlie and that he is totally sober."
Not surprisingly, Mueller is said to be "thrilled at getting another chance to live in Mullholland Estates. She loved living there before when she was with Charlie.
"Also, Brooke has gotten very close to Paris recently, who will now be her neighbor once again," the source said.
Brooke and Charlie, who have twin sons together, Max and Bob, split after a violent Christmas Day altercation in 2009 resulting in Sheen's arrest and charges of assault.
Article continues below advertisement
Charlie subsequently struck a plea deal, avoiding jail.
Sheen pleaded guilty to assault and in return was sentenced to 30 days rehab, 30 days probation and 36 hours of anger management.
Sheen is going back to work Tuesday, after a nice tropical vacation with Mueller and his new pals. His publicist Stan Rosenfeld refused to comment on the situation simply telling RadarOnline.com that he knew where Charlie is. That's probably a step forward from late last year when Rosenfeld laughably claimed Sheen had an "allergic reaction" after a night of doing cocaine and landing in the hospital!