Exclusive
EXCLUSIVE: Brooke Mueller Moves Back In With Charlie Sheen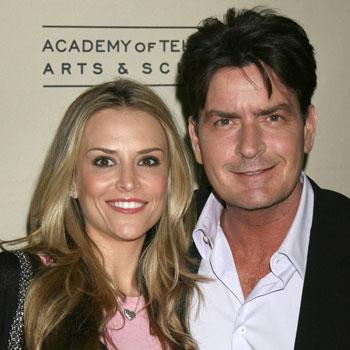 Charlie Sheen's soon-to-be ex-wife Brooke Mueller has moved back in with him, RadarOnline.com has learned exclusively.
"She moved in several days ago," a source close to the situation told RadarOnline.com.
And another source independently confirmed the information and said Brooke has been at the house consistently since Saturday, with the couple's twin boys and nannies.
It's yet another strange development in the uber strange life of the Two and a Half Men star.
Article continues below advertisement
"I'm sure Brooke will try to deny this," the first source told RadarOnline.com. "She thinks because Charlie lives in a gated community that nobody has seen her. But she's wrong. A lot of people know about this and they've just been keeping it quiet.
"Everyone is stunned."
Sheen was arrested Christmas, 2009 on domestic violence charges after an argument with Mueller turned physical. The couple had been partying all night.
And RadarOnline.com reported exclusively that Mueller is taking Sheen up on his offer to buy her a house in his neighborhood.
But after Sheen made that offer he also told her to move in and she started bringing her belongings to his house.
"Her family is furious," the first source told RadarOnline.com exclusively. "They think this is the worst thing for her."
Brooke and Charlie's short-lived marriage was a churning cauldron of drugs, sex with other partners and arguing. Their reunion is a bad move for both of them, say sources close to Brooke AND Charlie.
Article continues below advertisement
"Nothing good is coming of this," the first source said. "These two are terrible together."
Brooke has a nice financial settlement from Sheen and wants to stay on his good side. She was happy when he asked her to move back in, according to the source, and has been seen coming and going from the house consistently for the past several days.
"She's not just dropping off the kids for Charlie to spend time with," the source said. "She's there. The nannies are there. She actually moved her things in."