Exclusive
EXCLUSIVE: Brandi Glanville 'Knows Nothing' About LeAnn Rimes & Eddie Cibrian Reality Show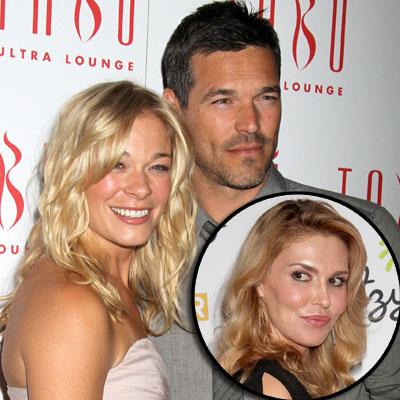 Brandi Glanville has told RadarOnline.com that she "knows nothing" about a reported new reality show starring her ex-husband Eddie Cibrian and his fiancée LeAnn Rimes.
Rumors have been circulating that the pair are in discussions to do a new show about their lives as newly weds which would also feature Glanville and Cibrian's two sons Mason and Jake.
But Glanville has not been informed about any such project involving her sons.
Article continues below advertisement
"I know nothing about it," she said. "LeAnn tweeted that anyone who does a reality show is a fame whore so I somehow doubt it."
Glanville and Rimes recently engaged in a Twitter fight after the mom-of-two blasted the famous singer for acting inappropriately at her son's school.
"I told Eddie to please tell you that I think it is highly inappropriate for you to sing in my son's class on Friday," she wrote. "Boundries!!
"It's Mason's week to share his family with the class. it isn't ur place.
"Let Eddie read a script. You are not his parent. RESPECT!"
Although no direct response was given from Rimes, she did post a somewhat cryptic message possibly addressing the messages from Glanville.
"I have asked once and would hope my fans would please respect my wishes...please do not retweet me anyone else's drama," Rimes wrote.
Article continues below advertisement
Rimes made headlines when she had an extra-marital affair with Glanville's then-husband, Eddie Cibrian, who ended his eight year marriage with her to be with Rimes.
As RadarOnline.com previously reported the two women tried counseling together recently to attempt to resolve their differences, but they don't appear to have enjoyed a successful outcome.
Rimes and Cibrian announced their engagement on December 27, 2010, but have yet to officially announce their wedding date.