Charlie Sheen Releases Statement, Says He's Putting Down His Sword!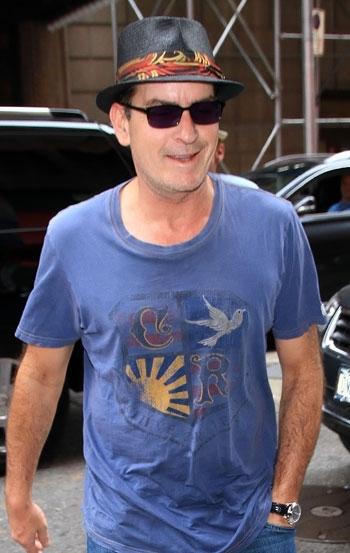 Charlie Sheen fired off a statement Wednesday thanking his fans, fellow cast members and the crew of Two and a Half Men — and in which he bizarrely compared himself to one of Hollywood's most famous swashbucklers, Errol Flynn.
The actor's statement reads as follows:
I have a lot of work to do to be able to return the support I have received from so many people.
I want to say "thank-you" to my fellow cast members, the crew of Two and a Half Men, and everyone at CBS and Warner Bros., especially Les Moonves and Bruce Rosenblum for their concern and support.
Article continues below advertisement
And to my fans, your good wishes have touched me very much.
Like Errol Flynn, who had to put down his sword on occasion, I just want to say, "thank-you."
EXCLUSIVE VIDEO & PHOTO: Martin Sheen Visiting Charlie At The Hospital
Flynn, considered an old Hollywood sex symbol, was a phenomenally successful movie star of the 1930's and 40's, whose defining roles were in The Adventures of Robin Hood and Captain Blood.
Sheen's statement comes after he entered home rehabilitation after a night of wild partying, involving porn stars and heavy drug use, which landed him in the emergency room.
As RadarOnline.com revealed, Sheen spent more than $500,000 on escorts and drugs in the last six months.
The star was ordering up to an ounce of cocaine at a time and would often go on Ecstasy binges while adding methamphetamine to the potentially lethal cocktail.
Article continues below advertisement