VIDEO: Scott Disick Slams Kim Kardashian's Style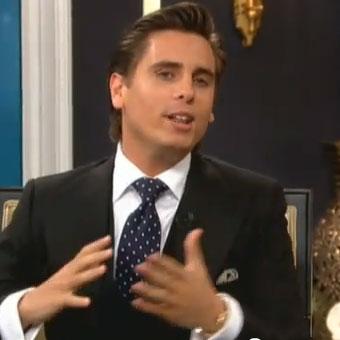 Scott Disick and Kim Kardashian are used to going head to head on the weekly reality TV show Keeping Up With The Kardashians.
But now Disick is taking their fight to another level – slamming Kim's style on E!'s Fashion Police – and RadarOnline.com can bring you the video.
Scott stood in for regular host Kelly Osbourne on a recent episode and when it came to grading his girlfriend Kourtney's sister's style, he held no prisoners!
Article continues below advertisement
The panel were grading a daring little black dress of Kim's, which had a revealing lace panel that ran up the front, revealing plenty of her ample cleavage.
"This is what we want Kim Kardashian to look like," commented Giuliana Rancic. "It's got a lower hemline – party on top, business on the bottom."
However, Scott wasn't quite so kind. "Kim's thing – it's a little crazy having nothing in the middle," he said. "It would be like if I came out in my suit and had my crotch open – it's a little weird."