VIDEO: Is MTV's Skins Child Porn?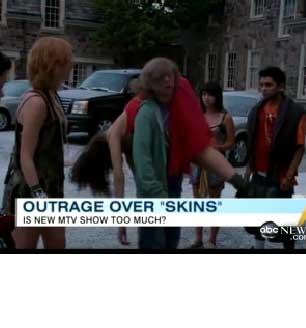 MTV's new drama Skins is generating a ton of controversy for the network, as critics claim its' racy content of sex, violence and drug use among minors -- using actual minors in the cast -- might be in violation of federal child pornography statutes.
"The bar keeps getting higher for what gets provocative on televisions," TV Guide business editor Stephen Battaglio told Good Morning America Friday. "This time, they decided to take a chance on it."
Article continues below advertisement
The show debuted to a spectacular 3 million viewers, and is expected to gain more with word-of-mouth, but advertisers such as Taco Bell have already pulled their sponsorship in the wake of complaints.
MTV said in a statement that the show airs at the late time of 10 pm, and that they've "taken numerous steps to alert viewers to the strong subject matter so that they can choose for themselves whether it is appropriate."
Family therapist Terry Real told Good Morning America he believes the show is pushing the envelope "pretty far," and that its' 10 pm start time is still early enough to draw in plenty of teenage viewers.
"I think that it is terribly important that we let our kids know that this is in fact not the norm," he said. "The concern for the boys is that the idea here is very clearly that even the young boys 14, 15, 16 are up for sex anywhere, anytime with anyone -- I think that's a lot of pressure for our sons to have to deal with."
Article continues below advertisement
Watch the video on RadarOnline.com
And the show doesn't get much better in portraying the girls, Real said.
"The girls concern me even more because if you look at the kind of sexuality that's portrayed its often in fact not mutual, it's about girls feeling they need to service boys in order to keep them," Real said. "I think this a direct, in some ways, backlash to the empowerment of girls.
"I think we need to stand up to it, and have our daughters stand up to it, and do what they feel comfortable with."